7 Dimensions of Wellness and The 4 Ages in a Life Cycle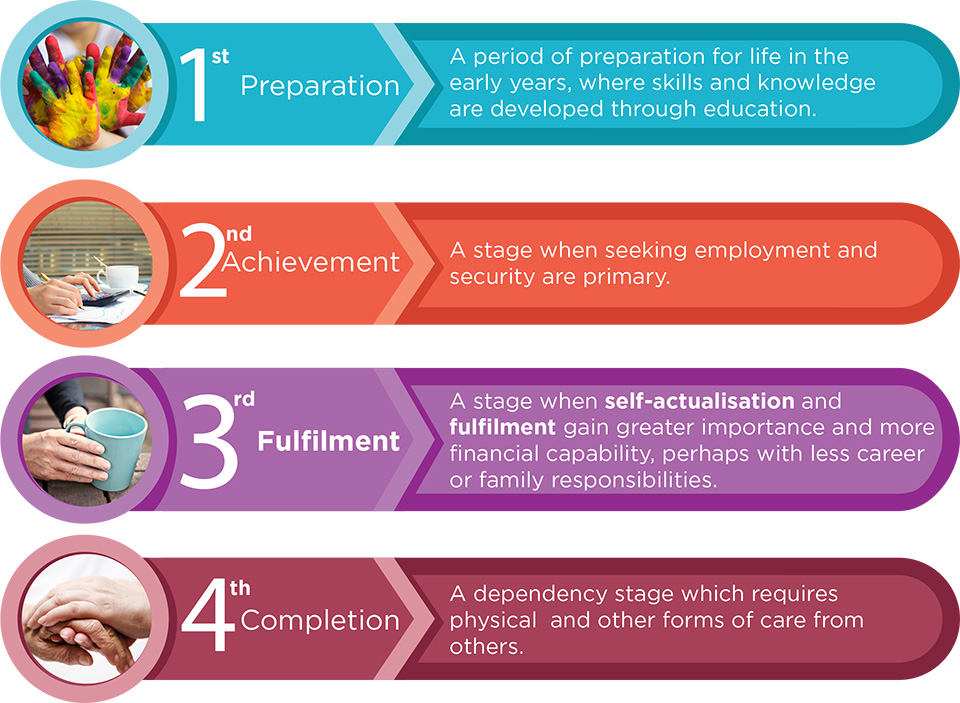 Source: A Fresh Map of Life: The Emergence of the Third Age, Peter Laslette (1991)
SEVEN SECRETS TO AGEING WELL
For baby boomers approaching midlife, turning 50 can mean ushering the new 40 with the promise of exciting times ahead. Add modern technology and superfoods to the lifestyle equation, and your senior years can become your best years. The old adage, "Growing Old Gracefully" has now given way to the new adage, "Passport To Freedom" as seniors embark on a journey well-equipped with better finances, better health and new-found energy.
Being independent and care-free are, surely, wonderful feelings. The demands of a job are now behind you along with tending to the needs of a young family. Having acquired years of life's experiences, you are now much wiser and therefore more confident than before. Scientific research and medical breakthroughs can help extend longevity. Engaging in healthy inter-personal relationships as well as securing financial and physical health can all enhance your sense of well-being which is so essential to embracing wellness. Your senior years are indeed your best years with many treasures to be found. Through the Seven Dimensions of Wellness, enhancing your quality of life is within your reach through understanding and applying the simple principles and tips that can help you age well.
Wellness Matters
Wellness is the ability to live life to the fullest and to maximize personal potential in a variety of ways. Thus, maintaining an optimal level of w创lness is absolutely crucial if you desire a higher quality of life. More importantly, wellness matters because everything that we do and every emotion that we feel often relates to our well-being. In turn, our well-being affects our actions and emotions. Therefore, achieving optimal wellness will help subdue stress, reduce risk of illness and ensure positive interactions.

The Seven Dimensions
Physical Wellness is about you exercising regularly, eating a balanced diet, caring for your body. It is also about you taking responsibility for minor illnesses and knowing when to seek professional medical help.
Emotional Wellness is about your ability to manage, express and accept your feelings, cope with problems and solving them, and managing stress.
Spiritual Wellness is about you seeking meaning and purpose in life, and discovering spiritual fulfilment.
Vocational Wellness is about gaining personal satisfaction and enrichment in your life through work or even unpaid work such as volunteerism.

Intellectual Wellness is about you being actively involved and engaged in creative and mentally stimulating activities, and seeking improvement to expand your own knowledge.

Financial Wellness is about having an understanding of your own financial situation and taking care of it in such a way in preparation and anticipation of any financial changes.

Social Wellness is about you developing a meaningful relationship with the world around you and making new friends.
Indeed, the senior years can be most enriching for seniors today who are independent, socially connected and in good physical health. So be empowered to seek fulfilment at this stage of your life as you work towards being self-reliant, independent and active.