C3A App
The C3A App is an all-in-one resource centre for iPhones, iPads, Android Phones and Android Tablets. In the App, you can find senior-related information, relevant services directory, discounts and latest activities.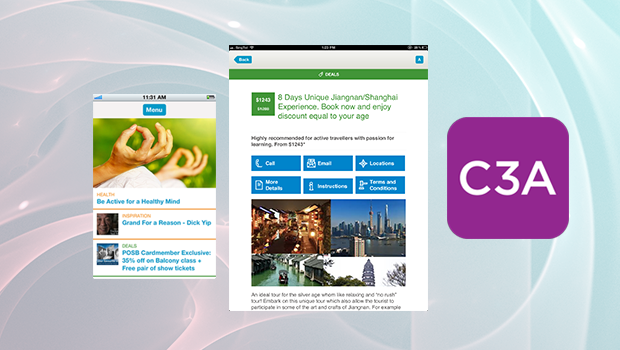 What does the app do?
Easily read content on your device
View event locations on map
Get directions with GPS assistance
Call Merchants for deals
Add events to the phone calendar
Which devices is the C3A App compatible with?
iOS 4.0+ for iPhone 3GS+, iPad 1 & 2, the new iPad, and iPod 3+
Android 2.1 and Up
Where can I Download
You can download from the App Store or Google Play
How much does it cost?
The C3A App is Free to download and it is Free to use.
Will I incur any data charges for using the C3A App?
Yes, your standard data charge rates apply. We do not charge you anything for using C3A App.
Where do I get help regarding the C3A App?
We would love to hear your feedback and suggestions. You can directly email us at c3a@c3a.org.sg.