The 3rd Alternative:
Solving Life
The 3rd Alternative is another remarkable book by renowned author Stephen Covey.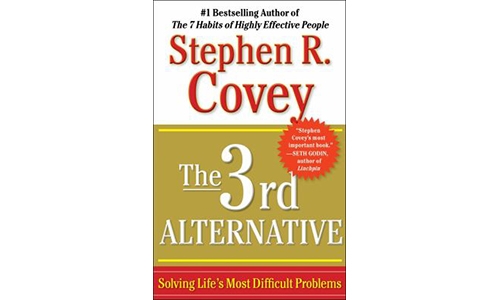 Review
In this book, Covey provides insights to resolving almost any problem faced by people simply by finding an alternative way that everyone involved can agree with. He suggests that people should adopt the concept of 'our way', which is finding a 3rd alternative to resolve an issue between two parties. By embracing this concept, each party walks away happy as no one has to make a compromise in any scenario.
Excerpt: Page 210
Let me quickly say that I don't define a "leader" as one of the few who end up in big leadership positions. We are too used to thinking of leaders as people with titles like CEO or president. This view of leadership is an artefact of the Industrial Age, and we are long past that kind of hierarchical thinking, I'm talking about the ability to lead your own life, to be a leader among your friends, to be a leader in your own family – to be the active, creative force of your own world.
True leaders define and achieve enduring success by developing character and competence and taking principled actions, they don't wait for others to define it for them. Because they see themselves as uniquely gifted, they compete against no one but themselves. In economic terms, there are the providers of what they provide, so they can auction their talents to the highest bidder. These leaders create their own future. With time and circumstances, they might fall short of a goal, but they never fail.
Info
Author: Stephen R. Covey and Breck England.
Publisher: New York: Free Press, 2011.
Call Number: English 158 COV