Active at all ages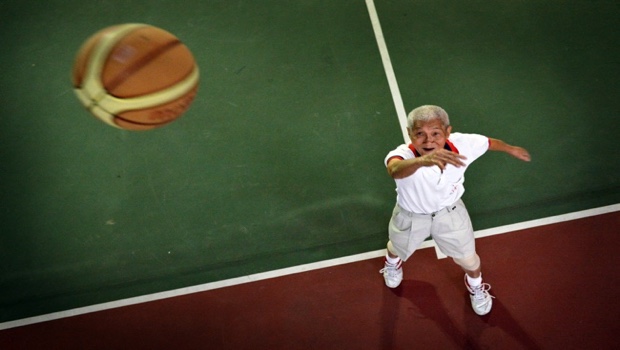 With the Government expected to announce wider medical coverage for seniors during the Budget, these four seniors show that health is not just the state's responsibility, but a personal one as well. Aw Cheng Wei reports.
Basketball passion keeps him young
Name: Ho Lien Siew
Age: 83
Occupation: Basketball coach
Sport: Basketball
HIS wife often jokes that Mr Ho Lien Siew loves dribbling and shooting hoops more than her, and he seldom refutes that claim.
"It's my life," said the 83-year-old in Mandarin, adding that he picked up the sport in primary school and never looked back.
"I've not thought about giving up on the sport because I've made so many friends from it," he said. "I also fell in love with my wife through it."
Mr Ho, who has one daughter, even represented Singapore in the 1956 Olympic Games in Melbourne.
These days, he still plays, but it's the younger generation that keeps him busy. He coaches a group of teenagers at Ang Mo Kio Community Centre every Monday, Wednesday and Friday.
"Teaching them keeps me young," said Mr Ho. "For me, basketball is a way to connect across generations and I always look forward to seeing (my students)."
He's limited only by the weather
Name: Adam Tan
Age: 68
Occupation: Retiree
Sport: Windsurfing
MR ADAM Tan spent every day for a week this month windsurfing at the water venture centre at East Coast Park, enjoying the north-east monsoon winds.
"When the winds are strong enough, we can be blasting up and down," said Mr Tan, who goes out to sea with his friends whenever there are fair winds.
"We check the (National Environment Agency's) website every day to see if the winds are good," he said with a laugh, adding that they would then arrange to meet.
The friends spend anything from "one hour to half a day" windsurfing, said Mr Tan.
He likened the sport to "being on a motorbike, but much more environmentally friendly".
Beginners should take lessons at the centre, advised Mr Tan, because "there are many technical details to know - from the boom, to the sail, to the sea conditions".
Having the proper training also makes it a lot safer, he added.
100 push-ups no problem for him
Name: Ngai Hin Kwok
Age: 66
Occupation: Retiree
Sport: Calisthenics
BEFORE most people are out of bed, Mr Ngai Hin Kwok would have already completed at least 100 push-ups, 30 pull-ups and 40 dips. The series of calisthenics exercises is part of the retiree's daily workout regime.
"I do them to keep fit so I don't fall sick so often," said Mr Ngai, who has two sons.
He first read about the sport in Chinese newspaper Shin Min Daily News two years ago when he was about to retire and contacted the organiser to learn more.
He said he has never been in a better state of health. "There's also a part of me that does it for vanity," he added with a laugh.
Sometimes, he even works out twice a day, but he remembers to rest every three days or so, wary of wearing his body out.
"I'm getting older so I need to be more careful. My joints are not what they used to be," he said.
East Coast to Yio Chu Kang on a bike
Name: Jessie Jesudason
Age: 72
Occupation: Retiree
Sport: Cycling, skating
A FALL last July resulted in Madam Jessie Jesudason not only suffering a hairline fracture but also having to take six months off her favourite sport - skating.
Still, she is not letting her injury affect her fitness. She cycles for about six hours every Saturday morning from East Coast Park to Yio Chu Kang.
The grandmother of five picked up ice skating at 60, after she retired as an office manager with an international aviation company.
"I had to learn how to adjust from being so busy to having nothing to do," she said.
Two years later, she learnt inline skating to improve her manoeuvres on ice.
She cannot wait to put on her skates again after the Chinese New Year.
She said: "It has been long enough."
Source: The Straits Times © Singapore Press Holdings Limited. Reproduced with permission.