Adding colour to this week's Chingay Parade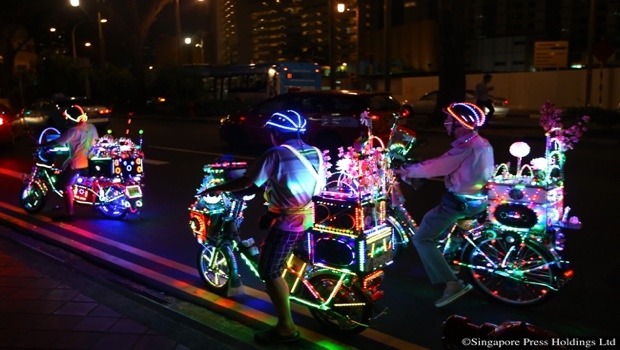 WHEN Simon Peter cycles along the streets of Chinatown and Clarke Quay on weekend evenings, he cannot help but become the focus of attention.
Motorists slow down to gawk at his ride, wjile pedestrians stop to look at the colourful, moving light show.
That is because Mr Peter's trippy bicycle is festooned with so many LED lights that it looks like a Chingay Parade float.
Indeed, the 59-year-old hardware store assistant and his friends will be taking part in this year's Chingay Parade, after being spotted cruising around Chinatown by one of the organisers.
The man followed them in a car and stopped the group to invite them to take part in this year's Chingay, which will take place on Friday and Saturday.
Mr Peter said: "I'm very happy and excited. This is my first time taking part in Chingay."
It has been a long ride to the parade - Mr Peter bought his electric bicycle shortly after selling an older model to a German man for $2,000 in 2012.
Feeling that his new bicycle was too plain, he initially spruced it up with a few LED lights.
Over time, the electric bicycle was transformed into a kaleidoscope of colour, thanks to a multitude of LED lights and stickers.
Now, it even has a modified car alarm and a DVD karaoke system with an amplifier.
Four 12-volt batteries power the added accessories, which have the bike weighing about 15kg, said Mr Peter.
He spent around $6,000 buying and modifying his bicycle.
It took him about three weeks to do it up, a job which he took on himself, with the exception of the soldering done by his godson.
Mr Peter said his wife and two children, a son and daughter, are supportive of his hobby and find it interesting.
Mr Peter's friends also noticed what he was doing and were inspired to follow suit.
They too began to brighten up their bicycles. Some who did not own electric bicycles even bought their own to customise.
One of them, Steven Law, 46, said that his family is surprised by his hobby because it is unusual.
"I feel very proud and happy when people ask to take photos with us," said Mr Law, a restaurant's assistant chef.
The group of seven friends now go cycling every weekend, usually around Chinatown and Clarke Quay.
They cycle at night for about three hours, returning home around 10pm.
While cycling through Chinatown, the men are often stopped by passers-by asking to take photos.
Drivers often wind down their windows at traffic lights to take photos of the bicycles.
Some even honk at the cyclists to get their attention and compliment them on their rides.
"I always feel happy to talk about my bike with them and let them take pictures of it," said Mr Peter.
The group usually park their bicycles somewhere in Clarke Quay and turn on their sound systems, filling the air with the melody of Chinese music such as xinyao.
The effect is akin to a mobile disco as people nearby start dancing to the music.
Besides adding colour to other peoples' lives, Mr Peter also gets a good workout from his weekly rides as he lives in a three-room Housing Board flat in Boon Keng, which is 5km from Chinatown.
Source: My Paper © Singapore Press Holdings Limited. Reproduced with permission.