Audio Book Review:
Eat Right for Your Type
Eat optimally for your blood type? Why not?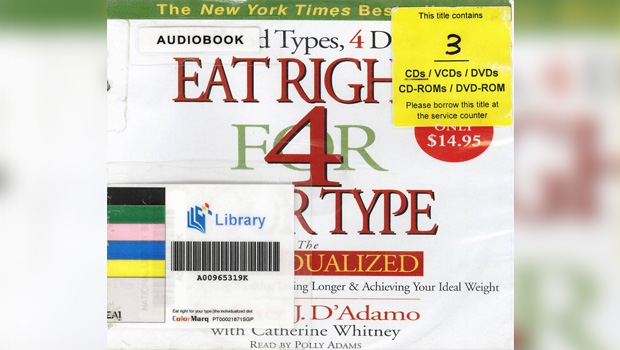 Dr. Peter D'Adamo has done extensive research on the correlation between blood types (O, A, B and A/B) and dietary factors. This correlation affects a person's health, weight management and ageing process.
Eating with the knowledge of your blood type can improve your health and weight management. For example, people with 'O' blood type produce a lot of hydrochloric acid in their stomachs and this abundance of stomach acid allows them to digest animal proteins better. They should avoid coffee which is acidic, making them prone to peptic ulcers. Rather, green tea is recommended. In terms of weight management, vigorous workouts are recommended for this blood type.

This audio book has a refreshing take on diet and exercise solutions, but it is also recommended that you seek professional medical advice before following the diet and exercise plans suggested.
Info
Authors: Peter J. D'Adamo and Catherine Whitney
Publisher: New York: Harper Audio, c2007.
Call No.: AV English 613.25 DAD – [HEA]
Physical Description: 3 sound discs