Book Review of Good Morning Yesterday
With his book, memories of my early years became not too hard to find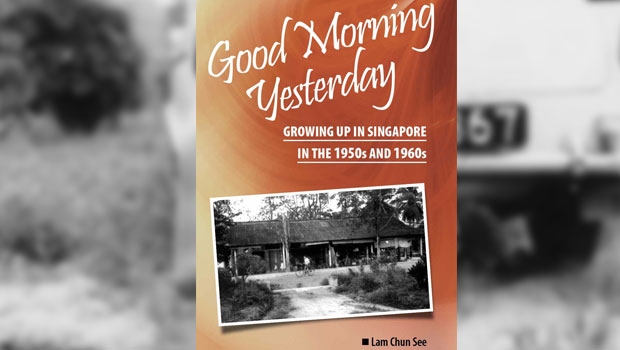 On the dedication page of the book Good Morning Yesterday, beneath a photo of the author's parents (taken with a Kodak Brownie camera), are these words from a golden-oldie:
"Good morning yesterday. You wake up, and time has slipped away …. and … Suddenly it's hard to find, the memories you left behind: Remember, do you remember?"
I was born in 1946, six years before the author, Lam Chun See, but grew up in an SIT settlement near a place almost like his kampong-of-origin. With his book, memories of my early years became not too hard to find: odours that distinguished a 36-door limo from a soya sauce factory or a rubber smoke-house or an 'organic' manure; the sounds, songs and scenes from Singapore's first small-screen shows; the aromatic flavours from the woks and pots and pans of itinerant street hawkers cooking, boiling and frying away … and yes, my grandma's ever-dependable first-aid remedy of bryophyllum from her recycled tam tong plus 693-powder from the yok-choy-poe….
If some of what I mentioned sounds unfamiliar, this book can help. Kodak has closed shop, so has Singapore's pig farming with its KTKs*, but with a memory-jogging gem like Good Morning Yesterday, my memories won't be left too far behind, and I can answer Paul Anka's question in the Kodak jingle – oh, yes, I can remember those times of my life.
* In case you are wondering what a KTK was, here's an extract from page 68 of the book:
Another itinerant service
So far I have told you about itinerant services provided by food vendors, tinkers and koyok sellers who visited our kampong. But there is one more which is sure to tickle you, and that is the itinerant farmer who provided a service called 'kan te ko'. Kan te ko which literally means, "to lead (male) pig", is best translated as stud service. Basically this man – let's called him KTK for short - will visit the pig farms with his 'stud' and impregnate the sows for a fee of $3 per sow. Apparently results were guaranteed; otherwise they would be happy (not sure about the poor animal though) to do a repeat job. Farmers were also advised to feed their sows with eggs to increase the chance of pregnancies.
Whenever the KTK arrived at the village to provide this 'baby-making service', all the young girls who were unmarried were not allowed to watch. The curious girls were told not to ask why the animals were making so much noise. My friend Yeo Hong Eng who grew up in a farm in Kampong Tanah Merah Kechil shared this interesting information with me ……
Synopsis
Good Morning Yesterday – Growing Up in Singapore in the 1950s and 1960s is a book about what Singapore was like in the eyes of a kid growing up in a kampong at a time when there was no PC, internet, videos, MRT or flush toilets; and electricity, piped water and television only arrived in the 60s.
To give readers a more complete perspective, the author has included stories by his friends and fellow nostalgia bloggers like James Seah, Edward Williams and Freddy Neo.
The book is available in Times, Popular and Kinokuniya at $18.65.