Broccoli salad surprise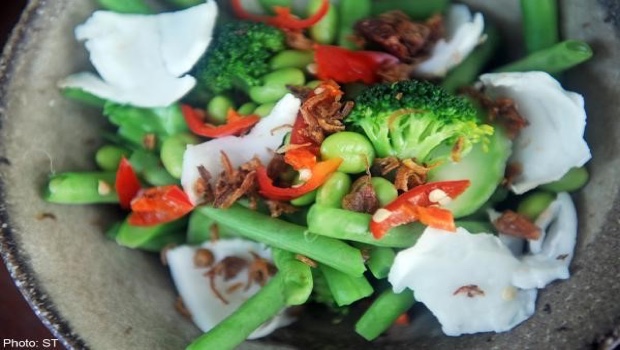 I am sorry now that I did not eat at the Ottolenghi restaurant when I last visited London.
It is a vegetarian restaurant and I had the usual preconceptions about vegetarian food.
It would probably be too grainy, bland and have too much crunch.
And then I received the cookbook, Plenty More by Yotam Ottolenghi, for Christmas and was amazed at how he handles vegetables.
Think of combinations such as fried vegetables tossed in yogurt and chilli oil, or lentils, raddichio and walnuts with honey, or butternut squash on polenta topped with a tempura-ed lemon.
Not only were the combinations imaginative, he also used ingredients in an unexpected manner, such as pulut hitam in a savoury dish and spring onion in a soup.
I was inspired and could not wait to try out the recipes.
Yotam Ottolenghi is a celebrity chef-restaurateur and has had huge success in his delis, restaurants and cookbooks.
An Israeli, he employs Middle Eastern ingredients in his recipes. And so you will find preserved lemon, tahini, za'atar (a mix of oregano, thyme and savoury together with sesame seeds and salt) and pomegranate molasses and such on the list.
In an interview when launching Plenty More, he said: "It's easy to typecast vegetables - eggplant gets roasted, broccoli gets steamed, cabbage gets boiled, zucchini gets pan-fried - but there's a whole cast of characters out there, waiting to get given a different and, often, more exciting role.
"Some of my favourite recipes in the book are those which take a totally everyday vegetable and, through cooking it in a new way, show it in a completely new light.
"Char-grilling baby tomatoes, steaming a whole eggplant, slow-cooking a white cabbage for four hours, braising a little gem lettuce which normally never sees the heat.
"Once you start playing around with cooking methods like this, the new ideas just keep coming."
Impressed by his approach, I decided to leaf through his book for fresh ideas when I had a head of broccoli, which I usually prepare by blanching the florets and dressing it with oyster sauce.
I found a recipe that used broccoli, French beans, edamame beans and take this, young coconut, in a cooked salad.
It was dressed with a curry leaf, black mustard seed and dried chilli oil, tempered first in oil, much like the Indians do when they finish off say, a dhal with a spiced oil.
Since the broccoli was going to be part of a Thai meal, I decided to use a Thai-based dressing.
This would be employing fish sauce, chilli, coriander root and garlic in a dressing together with palm sugar, watered down with lemon or lime juice and water.
It worked beautifully and without much fuss, especially as I already had coconut flesh and edamame beans in the freezer and French beans in the fridge.
Incorporating young coconut flesh is a brilliant way of adding a gentle nuttiness to a salad.
It gives richness, a soft yielding texture and yes, surprise to the dish - and that is something we can all learn from Yotam Ottolenghi when cooking vegetables.
Ingredients
1 small head broccoli
2 cups French beans
1 cup frozen edamame beans, available in their pods in packets
Flesh from a young coconut (medium-sized), available from the supermarket
Dressing
¼ cup fish sauce
Juice from a large lime or lemon
4 to 6 chilli padis, chopped, seeds removed
A fresh coriander root, chopped
2 tsp palm or brown sugar
1 clove garlic, minced
1/2 cup of water
Garnish
Red chilli, sliced
Fried garlic slices and shallots, both available from the supermarket
Method
Bring to the boil a small pot of water with 1 teaspoon of salt.
Meanwhile, cut broccoli head and stalk into florets and short lengths.
Top and tail French beans and snap into shorter lengths.
When water is boiling, blanch broccoli, beans and edamame beans from frozen. When colour changes, drain and dunk in a basin of cold water to stop the cooking. Drain.
Cut off the top of the coconut, using a chopper. Reserve coconut water to drink later and using a spoon, scoop out the flesh. Reserve.
Place blanched vegetables in a bowl, top with coconut flesh. Cover with cling film and chill in the fridge till needed.
In the meantime, make the dressing with the ingredients listed. Adjust seasoning to taste.
When ready to serve, pour over salad and toss well.
Garnish with sliced red chilli, fried shallots and garlic.
Source: The Straits Times © Singapore Press Holdings Limited. Reproduced with permission.