COMMUNITY HERITAGE SERIES III: VOID DECKS (Part 4)
Uses of the void deck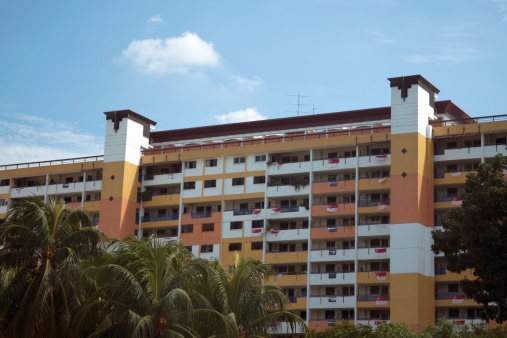 RESIDENTS' COMMITTEE CENTRES
Residents' Committees (RCs) were introduced in 1978 to promote neighbourliness, racial harmony and community cohesiveness in the HDB heartlands. Each committee operates out of a centre which will be used to conduct meetings and/or to organise activities for residents.
These centres are often located at HDB void decks to be "at the doorsteps" of the residents they serve. Sometimes, RC centres become favourite meeting places for residents. For instance, the RC centre at Kebun Baru Zone "D" is a popular hangout for residents who gather to play carom, watch television etc.
Likewise, the Yio Chu Kang Zone "B" RC centre is also a popular meeting place for youths who gather at the centre to read, play carom, watch television and/or prepare for RC related functions. Today, there are more than 500 Residents' Committee centres located at HDB void decks throughout Singapore.
SENIOR CITIZENS' CORNERS
In the 1980s, the Residents' Committees decided to construct purpose-built clubs to meet the needs of the elderly residents by renovating and partitioning the void decks of HDB estates. These senior citizens' clubs would be equipped with facilities such as games, television and music rooms.
In comparison, Senior Citizens' Corners at void decks can either comprise built-in facilities including constructed tables, benches, metal cabinets and signages, or be set up by residents themselves through the contribution of furniture such as tables, chairs and other decorative items such as potted plants.
Seniors Activity Centres have also been set up at void decks by non-profit organisations to cater mainly to low-income elderly residents. These centres function as drop-in centres that offer support services as well as social and recreational activities.
COMMERCIAL SHOPS
Traditionally, shops located at HDB void decks would include commercial and retail shops such as coffee shops, provision shops, Chinese medical halls, clinics,
stationary shops, barber shops, bakeries and even minimarts.
In the later years, retail chains started to expand their networks into the HDB heartlands by opening up outlets at void decks. These include supermarkets such as NTUC Fairprice and Sheng Siong, convenience stores such as 7-Eleven and Cheers, and fast food chains such as McDonald's.
More recently, a new generation of businesses such as premium ice-cream shops and boutique cafés have found their way into void decks and they are set up by budding entrepreneurs who wish to take advantage of the lower rent. In November 2011, the first makeshift coffee shop selling only cooked food prepared elsewhere was set up at the void deck of Block 930 in Hougang.
"MAMA SHOPS"
During the mid 1970s, HDB started to establish standalone kiosks (also known as "mama shops") at void decks as part of its efforts to cater to the needs of residents
for sundry everyday items such as sweets, biscuits, ice-cream, newspapers, magazines etc.
In 1979, a kiosk selling sundry goods was introduced at the void deck of every fourth block and the kiosk would be built facing lift lobbies as a means to boost neighbourhood security since kiosk operators might notice unsavoury characters and notify the authorities where necessary.
At their peak in 1983, there were about 600 standalone kiosks located at void decks around Singapore. However, low demand from prospective operators and competition from neighbourhood provision shops have led to a decrease in the number of kiosks today.
C3A thanks National Heritage Board for permission to use this article.