Ecuador will take your breath away
Wu Shangyuan braves the high altitude to wander in and around Quito, the capital of this South American country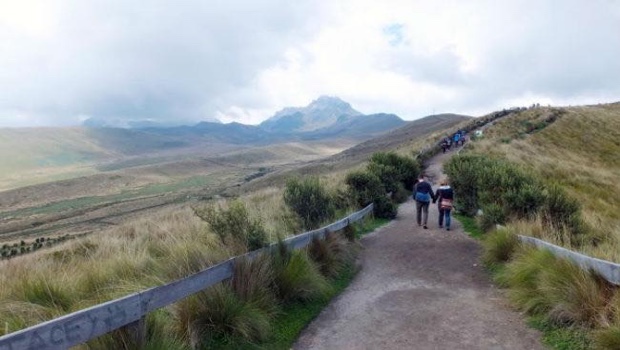 ECUADOR is geographically blessed, being home to the world-renowned Galapagos Islands that are brimming with exotic wildlife. En route to the islands, travellers often make stops in mainland Ecuador.

Contrary to the mainland's "springboard" status however, cities in Ecuador offer some of the most spectacular tourist sites in South America, and its capital of Quito is the best place to start.

From a bustling historic centre described by Unesco as the "best preserved and least-altered historic centre" in all of Latin America to the cloud-laced hike atop the Andean highlands, and Latin America's largest open-air market at nearby Otavalo, this is a destination not to be missed.


Historical walk

I have been to many capital cities in South America and, Quito is certainly one of the most inviting, both within its historic centre and without.

There, my travel partner and I found ourselves in an old city lined with stoic colonial buildings and churches so immaculately preserved that they looked like they had been painted over the day before.

We joined the locals shopping along the pedestrian streets, although walking on the steep slopes at Quito's 2,800m-high altitude sometimes left us quite breathless. Being mindful to slow down and breathe deeply, we proceeded to the main square Plaza de la Independencia.

Against a beautiful mountainous backdrop stood the Cathedral of Quito and the presidential palace of Ecuador, surrounding a nice park where locals sat relaxing amid the greenery.

This is a city thick with tradition. We saw locals, young and old, wearing their traditional Ecuadorian outfits, with the women donning colourful flared skirts and hats that sat atop their braided hair, as they went about their daily activities.

Passing more squares — such as Plaza Santo Domingo which features landmark churches with looming white bell towers — we headed to one of the oldest streets in Quito.

The famous Calle La Ronda — a narrow cobblestone walkway that would come alive at night — has many shops, restaurants and bars that beckon to the passing crowds. We stopped there for a sip of the Canelazo drink, a delightful mix of sugarcane alcohol and water boiled with cinnamon that is a favourite with locals.

Farther out from the historic centre are other must-visit sites. Be sure to check out the Basilica del Voto Nacional, the 19th-century neo-Gothic basilica that is the largest in the Americas; and the statue of Virgin Mary that stands atop El Panecillo hill overlooking the old city.

Also don't miss the national monument of Mitad del Mundo, which marks "the middle of the world" and where you can literally step over the equator from the Southern to the Northern Hemisphere.


Top-of-the-world feeling

As if an altitude of 2,800m wasn't enough, Quito offers travellers an even loftier challenge with a gondola ride, the TelefériQo, up to a whopping 4,100m above sea level for an incredible hiking experience in the clouds.

This aerial lift, one of the highest in the world, offered us spectacular views of the city all the way to the top as the terrain shifted from cityscape to endless rolling hills of brown and green.

The air was thin up there — prior acclimatisation is crucial — but the views at the top made us forget our breathlessness.

We were able to walk right along the peak of the mountain range. To our left was an undulating grassy terrain occasionally obscured by incoming clouds, and to our right was an expansive view of the city below clear blue skies.

A small chapel stood amid this majestic landscape, with the occasional group of llamas brought here by the locals to graze. We truly felt like we were on top of the world.


Friendly locals

Otavalo is just two hours away from Quito by bus and a perfect place to shop for locally made souvenirs and interact with the locals.

There, rows upon rows of stalls sell everything from locally crafted bags and blankets to children's clothing. There is also a food market selling fresh produce and traditional cooked food like roasted guinea pigs.

We found many of these stalls manned by elderly Ecuadorian men and women in their traditional outfits, all extremely friendly people and hard workers.

Many of them carried massive cloth bags loaded with their wares that were double their sizes, their frail bodies bent beneath the weight. But they never stopped trudging on, and they never stopped to smile, offering us earnest greetings.

We asked an old lady about the huge fruit pods she was selling and, with outstretched arms, she offered us an Ecuadorian guava fruit, asking for no money in return.

Indeed, these are memories that I will hold close to my heart for a long time.
GETTING THERE

Delta Air Lines and United Airlines fly from Singapore to Quito for about $3,700. A cheaper option is to buy a return ticket to Houston in the United States for about $1,600 and then fly from Houston to Quito for $1,000.


TRAVELLER'S TIPS

■ Travellers who are not used to high altitude may experience breathlessness, headaches, and fatigue on their first day in Quito. Best ways to cope: Breathe deeply, slow down your pace of walking, and drink lots of water. The symptoms should go away in a day.

■ Food in Ecuador is cheap. A meal with a soup, main dish, and drink can cost as little as US$2 (S$2.50). For adventurous foodies, try the traditional cuy dish — that's guinea pig, fried or roasted, presented whole on your plate.

■ Experience the nightlife at Mariscal district with its numerous restaurants and bars. By day, the busiest street there, Avenida Amazonas, is a good place to book tours to other parts of Ecuador, including the Galapagos Islands.

■ The public transport system in Quito is efficient and extensive. Each bus ride costs just US$0.25
Source: Sgtravellers © Singapore Press Holdings Limited. Reproduced with permission.