From swamp to urban Jurong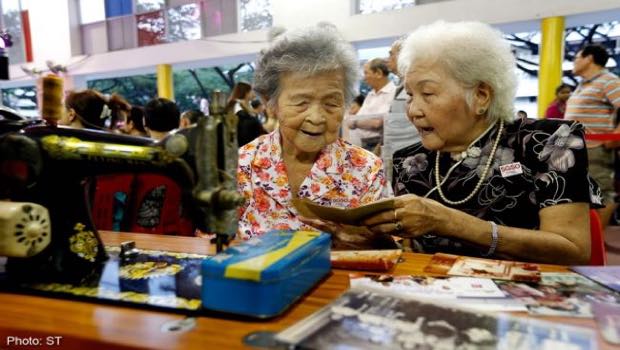 For more than 50 years, Madam Chan Kieu has called Jurong home.
The once sleepy estate was where she reared chickens and grew vegetables, raised six children and found lifelong friends.
"My family, neighbours and friends are here, and I cannot bear to leave this estate," said the 74-year-old, whose story is one of the many memories shared by pioneer residents of Jurong through Walking Down Memory Lane, an exhibition which was launched yesterday evening at the Jurong Green Community Club.
The former samsui woman from Johor, Malaysia, who started working when she was 14, moved to Singapore to get married at the age of 21.
Subsequently, she became a housewife and tended her husband's farm in Jurong West. These days, Madam Chan, who has nine grandchildren aged between 11 and 32, spends her time tending the flowers in the community gardens near her four-room flat in Jurong East Avenue 1.
"I enjoy spending time in the gardens with my neighbours," she said. "The kampung spirit is very strong here. We share food during festive periods and even help to bring in the laundry for one another when it rains."
The exhibition details the transformation of Jurong from a swampy marshland to a residential estate with various amenities from schools to supermarkets. HDB flats now stand in place of the kampungs of the past.
Deputy Prime Minister and MP for Jurong GRC Tharman Shanmugaratnam, who was the event's guest of honour, said: "Singapore is what it is today because of its people.
"Everyone worked hard, saw a better living for themselves and, importantly, contributed to Singapore. This same community spirit is what will see us through the next 50 years."
Recalled Madam Kwoh Toh, 86, a former school attendant who has been residing in Jurong Central since 1983: "Jurong used to be a swamp, and there were no houses or buses. We were the first batch of residents to move into Jurong Central estate and this has remained our home since.
"It is so different now. We've come a long way."
Preparations for the exhibition, organised by the Jurong Central grassroots organisations and its Citizens Consultative Committee, and supported by Hwa Chong Institution, started in December 2013.
Since March last year, more than 3,000 photographs, audio recordings and artefacts, including manual typewriters and charcoal irons, were collected from residents and former advisers to the constituency including Mr Yeo Cheow Tong and Mr Lim Boon Heng.
"The response from residents was good. They were more than willing to share their items with us," said Mr Eric Sim, 59, the organising chairman for the event.
"With this exhibition, we hope older residents will get an opportunity to share their memories with the younger ones."
Jurong Secondary School student Seoh Rong Sen, 14, attended yesterday's opening with his family.
"The exhibition is meaningful as it shows the history of Jurong over the years," said the Jurong resident.
After yesterday's launch, the roving exhibition, which is expected to reach some 5,000 residents, will make its rounds to various residents' committee centres and schools within the estate.
It will end on Aug 8.
Source: The Straits Times © Singapore Press Holdings Limited. Reproduced with permission.