Golden dessert to beat the glut
Bought too many mandarin oranges again? Just make pretty jellies with that extra fruit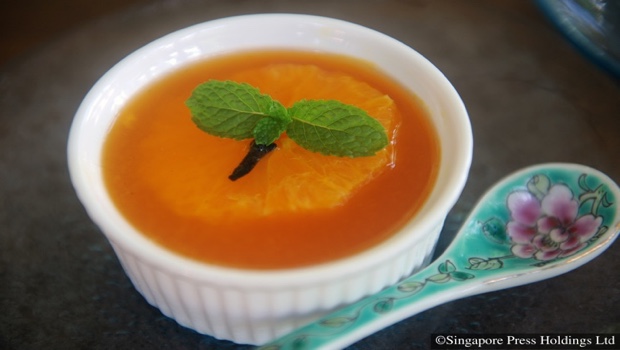 Every year at around this time, we face an orange glut: Chinese New Year comes around and there is a pile of oranges sitting in a basket in a corner of the living room.
Representing gold, the Chinese give and receive these fruits during the new year - a lovely custom which, unfortunately, also gives rise to practical problems.
Few people can consume so many oranges in such a short period of time and in my household, we perennially face the problem of mouldy oranges at the end of the season, especially with fridge space at a premium during this time.
This year, I have worked out a solution for using up all of this fruit.
I will either make an orange trifle using the fruit, together with custard and cake; or, for a healthier option, marinate the oranges with maraschino cherries for a lively colour contrast in a fruit salad; or make a jelly with it - spiked, of course.
The last two options are painless solutions to the annual orange surplus. There is no cooking that needs to be done, unless you consider making syrup as cooking.
In addition, both are relatively healthy dessert options, besides being most appropriate for the season, which makes much of the golden significance of oranges.
I also like the idea of being able to use up this ready supply of fruit.
There is no dairy or gluten to be found in the jelly recipe, as it is just fruit, fruit juice, sugar (which you can moderate depending on your taste) and yes, gelatine.
Oranges are a rich source of vitamin C. As there is little cooking, the vitamins are preserved. They are also a good source of fibre as the fruit is merely encased in a jelly, then consumed.
Among other benefits, oranges help to prevent cancer, lower cholesterol - as they contain lots of soluble fibre - and boost heart health, as they are full of potassium, which is responsible for helping the heart function well.
As for the vitamin C found in the fruit, it protects cells by neutralising free radicals, which can cause chronic diseases such as cancer and heart disease.
While I used powdered gelatine, you could also use sheet gelatine or the vegetarian version.
Just make sure the liquid is heated enough for the gelatine to dissolve.
If you are using gelatine leaves, you need to soften the stiff leaves in water and squeeze out the excess water before adding it to the hot syrup.
Stir well to ensure that everything gets dissolved.
Do not leave it soaking for too long, however, as the leaves may disintegrate.
I used two kinds of oranges: the mandarins for their juice, and orange halves cut from Valencia or navel oranges to encase in the jelly, simply because I think they look prettier than the mandarin segments.
But you can choose to use just one type of orange.
And if you consider jelly to be kid's food, the addition of Cointreau, an orange liqueur, to the mixture makes it sophisticated enough for an adult's taste.
It is also pretty enough for the festive season, especially if you have delicate dessert glasses to fill or white baking ramekins.
Add a clove and a mint leaf to garnish and I promise you, this glut of oranges will no longer be a problem.
RECIPE
Orange Cointreau jellies
(Fills four to six small ramekins)
INGREDIENTS
Two Valencia oranges, peeled, pith removed and halved
(or use mandarin segments)
Jelly
Juice from three mandarin (or Valencia) oranges and one lemon, to fill a cup (225 ml)
1 cup (225 ml) of water
1 10g packet of powdered gelatine
1/3 cup caster sugar, or to taste
3 cloves
1 small cinnamon stick
2 or 3 tbs Cointreau orange liqueur
Mint leaves and cloves, for garnishing
METHOD
Using a sharp knife, peel the skin and white pith of the Valencia oranges.
If you are using mandarin oranges, separate them into segments and peel away the white pith. Place a peeled orange half (or as many mandarin segments as you like) into a ramekin or a small dessert glass. Leave aside.
Place the sugar and water in a saucepan, together with the cloves and cinnamon stick, and bring to the boil.
Stir to dissolve the sugar.
Sprinkle the gelatine powder over the hot liquid and stir to dissolve. Remove from the heat.
Halve the oranges and the lemon. Squeeze them to get a cup of juice. Add this juice mixture and the Cointreau orange liquer to the pot and stir to combine.
Pour the jelly mixture over the orange halves or segments in the ramekins.
Place in the refrigerator overnight to allow it to set.
Garnish each portion with a mint leaf and a clove, and present these cups of golden jelly for the new year.
Source: The Straits Times © Singapore Press Holdings Limited. Reproduced with permission.