Hands-on lesson in life-saving skills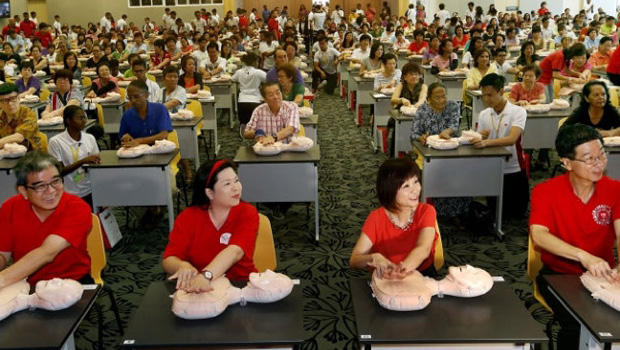 About 300 senior citizens learnt to carry out cardiopulmonary resuscitation (CPR) yesterday as part of a health carnival held at the Institute of Technical Education College Central.
They also learnt how to use an automated external defibrillator to deliver a life-saving electric shock to someone in cardiac arrest, and got a souvenir - their own CPR mannequin.
Joining them was Senior Minister of State for Health Amy Khor (front row, third from left), who stressed the importance of everyone knowing these skills.
"Each year, it is estimated that 1,800 people suffer from out-of-hospital cardiac arrest in Singapore, where only 3 per cent survived," she said.
"You never know when you need these life-saving skills."
Source: The Straits Times © Singapore Press Holdings Limited. Reproduced with permission.