Help for102-year-old mum, 67-year-old daughter
Daughter Amy Loh, 67, former pharmaceutical executive, with her mother Ho So Chun, 102. $800 in Medisave top-up every year for Madam Ho, $200 for Ms Loh. 75 per cent off bills at specialist outpatient clinics. Qualify for Community Health Assist Sch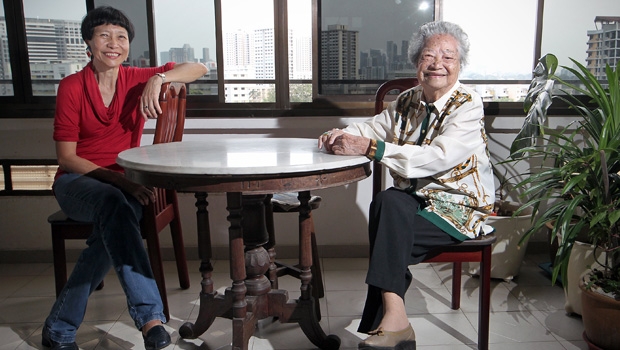 AT AGE 102, silver-haired Madam Ho So Chun loves to play mahjong – but only with people who play fast.
Her vitality belies her physical fragility – and the health-care costs her family, including daughter Amy Loh, 67, bears each time she needs treatment, gets a check-up or requires medication.
So Ms Loh was cheered yesterday by the news that both her mother and herself will receive help from the $9 billion Pioneer Generation Package.
"We've really had a lot of bills," said Ms Loh, who is single and lives on her company pension as a former pharmaceutical executive, in her condominium unit in Geylang.
Her mother had a triple heart bypass in her 90s, about 10 years ago. A year later, she had cervical cancer. Radiotherapy led to side effects such as incontinence and gynaecological problems for which she has to see at least four specialists.
In the past three years, she had fallen twice, fracturing her upper arm and injuring her spine. The tear ducts in her eyes have not been draining properly, too.
It helps that Ms Loh's three siblings in their 60s and 70s, and a 45-year-old nephew, share in paying Madam Ho's expenses, including hiring a maid with whom the widow lives in a private apartment on Moulmein Road.
Come August, mother and daughter will get more Medisave top-ups. Madam Ho will get $800, Ms Loh $200.
A month later, they will get an additional 75 per cent subsidy for treatment at specialist outpatient clinics. This will reduce Madam Ho's bill of $33 to $8 for a visit every two months on average.
In January, both will qualify for the Community Health Assist Scheme (Chas), which was previously limited to those from the lower- or middle- income group. The qualifying criteria of a $1,800 and below household monthly income per person, or an annual home value of $21,000 and below for households with no income, will be waived for pioneers.
Chas will also offset the $250 a year Madam Ho pays for medicine to control diabetes, blood pressure and cholesterol level. The amount of subsidy has not been made known yet.
Late next year, the pioneer generation will get help to pay for premiums for the new national insurance scheme, MediShield Life, which will cover everyone, including those with pre-existing illnesses.
This is a boon for Madam Ho, who has no medical insurance and is not on the existing MediShield, which has a cut-off age of 90. The scheme will pay for large hospital bills.
The Government aims to have pioneers aged 80 and above fully covered for premiums through subsidies and Medisave top-ups; and those who are younger, like Ms Loh, 50 per cent covered.
For Ms Loh, who runs half marathons and seldom falls ill, any money saved can pay for her own medical insurance. She said: "If I'm not sick, I don't go to the clinic. But I've to pay the premium regularly, and it increases with age."
Source: The Straits Times © Singapore Press Holdings Limited. Reproduced with permission.