He's got the right moves for the job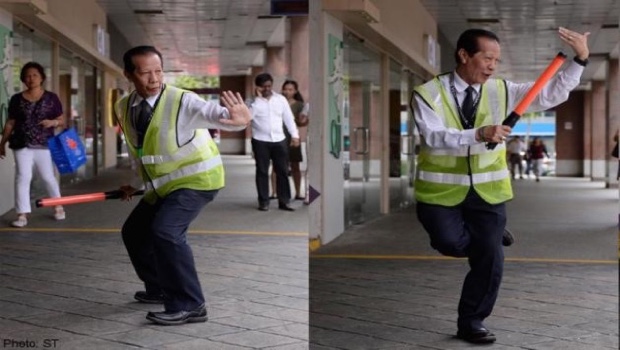 Mr Zaini Hassin enjoys his work as a shopping centre security guard and everyone can see that.
With all the aplomb of a musical conductor, the 71-year-old guides the flow of pedestrians and vehicles in and out of Century Square's carpark as if they were orchestra members awaiting his cue.
With one hand twisting and turning a red baton, and the other telling people when to start moving, Mr Zaini coordinates the traffic in a fluid mix of motion, standing on one leg at times and even shaking his hips.
Armed with a ready smile and infectious laughter, he has both cars and pedestrians keeping in tune to his directions. This daily dance to music that seems to play in his head is a familiar sight to shoppers and motorists at the Tampines mall, where he has worked for the past five years.
"I like my job because I don't have to be stuck in an office," said the father of five and grandfather of six. "When people smile at me, I feel happy."
His enthusiasm prompted shopper Maria Loh, 48, to write to The Straits Times Forum Page and say that "Mr Performer" has "elevated what many may deem a mundane, and perhaps, menial job to an art form". "We don't mind waiting in the queue to get into the carpark to look at him," said the housewife.
Mr Zaini, who works 12 hours a day, six days a week and earns $2,200 a month, said: "Because I'm happy at work, I'm not tired. It's good to be happy with your job and smile and wave at people."
He lives with his wife, a secondary school teacher, in a Bedok Reservoir West flat.
A technician and store coordinator previously at a telecommunications company for 30 years, he "performs" during the three hours he is posted to guide traffic at the carpark entrance.
He spends another nine hours of each work day on other duties such as patrolling the shopping mall and manning the taxi stand.
He said he has always enjoyed entertaining others and played the guitar in a band for 12 years in his younger days. "When I hear music, it's very natural to move. I'd like to be a rocker, but now cannot."
Mr Zaini is employed by Jasa Investigation and Security Services. Mr Ghazali Yusof Nazmeer, the operations manager of its eastern cluster, said: "This job can be mundane, but Zaini goes the extra mile. He's proactive and makes his presence felt."
Entrepreneur Ng Kwok Hua, 43, another visitor to the mall, said it was good to see the security guard inject fun into his duties.
"It's difficult to do that especially when we live in quite a conservative culture," he said.
Source: The Straits Times © Singapore Press Holdings Limited. Reproduced with permission.