Investments help prof retire before 40
Former academic lives simply, spending time, money on charity work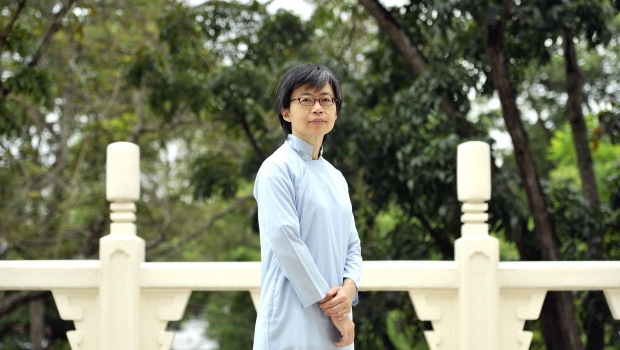 At just 45, Dr Tham Wai Mun is already five years into retirement and enjoying every minute of it. She is living it up but not in the way you may imagine.
"I am fully occupied, and am full-time into spiritual cultivation and education."
It started when she met two people who retired early, inspiring her to do the same. She told herself: "If I have enough savings, I can retire early and do what I want to do."
She went on to complete her PhD in Chinese linguistics in 1998 and became an assistant professor of Chinese linguistics at Nanyang Technological University (NTU), a job she retired from in 2007.
She has since been keeping herself busy with volunteer work at the World Red Swastika Society, a charitable organisation where she is a management committee member and the head of meditation and propagation ministries (for women).
"A lot of people equate charity with money. They forget that it comes from the heart," she says.
"It's about pacifying minds and transforming lives. Kind words are more powerful than buying someone a lunch or a movie ticket.
"The biggest part of charity is moral education and I am trying to revive that...
"In many instances, we are troubled because we do not have a strong hold on morality."
At the society, she conducts classes on moral values. "They are found in almost all upright religious teachings but I wouldn't want to use religion. Religion puts boundaries around us. What I teach are universal values.
"I expound on great compassion, unconditional love. When we have that, we will know how to treat one another like brothers and sisters, sincerely."
Dr Tham, who is single, is also the treasurer of the school management committee of Red Swastika School.
Q: Are you a spender or saver?
I am a saver when it comes to material life but I could be a prudent spender when it comes to charity endeavours.
I think money is a medium of exchange. That is its true function and therein lies the basis for my saving and spending. I can use money to do good deeds and live out my own calling.
I spend most on mission trips and donations. We are setting up a charity fund as well as learning centre in Bangkok, where we will teach people to build mud houses.
Q: How much do you charge to your credit cards every month?
I have surrendered my credit cards. I carry only a debit card which I seldom use.
Q: What financial planning have you done for yourself?
As soon as I completed my undergraduate studies in 1990, I bought three insurance policies: A critical illness plan, an endowment plan for my early retirement and a whole life plan for estate planning. They come with compound reversionary bonuses.
I now have seven plans, including two critical illness plans.
My mum died of cancer during my undergraduate days and I experienced that period of financial difficulty when we had to take care of her. So I told myself that I never want to burden my family.
I also have plans which I can redeem after the break-even period of six to seven years. I thus have peace of mind as I don't have to worry about my later years.
During my nine years at NTU, I also had a part-time job teaching at SIM University (UniSIM). I also had translation jobs. So I did not have to touch my NTU salary at all.
I had planned to retire at 50 but managed to call it quits just before I turned 40.
Along the way, I also held some shares, some funds, some foreign currencies and some land titles in Malaysia, Canada and the United States. I have since profited from the sale of some of the titles in Malaysia. I made a 20 per cent gain from one when I sold it after holding on to it for three months. If I had held on to it a while longer, I could have made more.
But I do not regret my decision. As long as I have made some money, it's okay to let go of the investment. I don't want to spend too much time monitoring it.
All these years that I have not been working, I have never had to worry about finances. Somehow, the money will come – either through my translation jobs or through my investments – to help pay for my mission trips.
Q: Moneywise, what were your growing-up years like?
My dad was a mechanic and my mum was a traditional Chinese medicine practitioner.
Even at a tender age, I appreciated how hard my parents were working to make ends meet, so my two older brothers and I were careful with our spending.
We were influenced by our late mum who served as a volunteer physician and did not hesitate to pay for transport or buy meals for her needy patients, to the extent that she sometimes almost emptied her own purse.
During the Japanese Occupation, my dad, who could speak Japanese, brokered machinery deals between the locals and the Japanese. Before the Japanese withdrew, a Japanese soldier told him to quickly spend all the money.
My late dad had three cupboards full of banana money and could have bought a bungalow with it. He didn't want to do so because the seller would suffer greatly.
Instead, he invited his neighbours to take all the money they wanted. A few days later, the Japanese withdrew from Singapore.
Q: How did you get interested in investing?
I was influenced by my mum who was rather shrewd in stretching the dollars we had as she strived to provide a better future for us.
Q: What property do you own?
I inherited an HDB flat in the east from my parents.
Q: What's the most extravagant thing you have bought?
A Burberry bag that was on sale. It cost me a few hundred dollars and I don't even use it.
Q: What's your retirement plan?
To me, retirement is another stage in life where I can be my own master. For me, there are three goals to meet in life – to do my parents proud, to do my teachers proud, and to live out my calling in life. That is my retirement plan.
Q: Home is now....
An HDB flat, where my divine nature is housed.
Q: I drive....
I am being driven. I take the bus or the MRT.
WORST AND BEST BETS
Q: What is your worst investment to date?
In a deeper sense, the worst investment is the time and energy lost in helping bosses to produce their report cards. Time is not money, but my life.
Otherwise, it was a land banking deal. I invested $10,000 with one firm. There were some mismanagement problems and I lost all of my investment. But I took it in my stride. When I knew that the company had serious problems, I already wrote off my investment.
I know land banking is risky. I made that decision so I have to pay the price. I am a long-time investor so I have to be able to handle the short-term frustrations that come with investing.
Q: What is your best investment to date?
My insurance policy, as it gives me triple the coverage as well as compound interest. But I say the best investment is in spiritual cultivation, meditation and educating. This is how health, finance and blessings are all secured.