Movie Review: Cowboys & Aliens
Set in 1873 Arizona, this is an action-packed sci-fi Western film is brought to life by stunning visual and sound effects.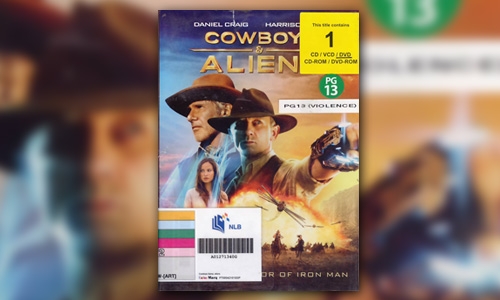 Title: Cowboys & Aliens Director: Jon Favreau
Cast: Daniel Craig, Harrison Ford, Paul Dano and Olivia Wilde.
Year of Release (Film): 2011
Running Time: 119 min
Call No.: English 791.4372 COW- [ART]

The story opens with a lone ranger, (Daniel Craig) who wakes up in the middle of the desert with no memories of his past, how he ended up in the desert, and even his own identity – nothing except a metal shackle around his wrist. He makes his way into the desert town of Absolution, led by the iron-fisted Colonel Dolarhyde (Harrison Ford), and finds himself unwelcome by the townsfolk. Adding to the mystery, the sheriff recognises the lost stranger as wanted outlaw Jake Lonergan, and tries to arrest him when he fights with Percy (Paul Dano), the Colonel's son. Just as the Colonel arrives and a stand-off is about to ensue, an alien craft begins attacking the town. Much to his surprise, Jake realises that the futuristic metal shackle around his wrist lights up, and is a weapon that successfully takes down one of the alien ships. Meanwhile, Jake befriends the beautiful and mysterious Ella Swenson (Olivia Wilde), the only person who is willing to help when everyone else is against him. When the alien attacks become more frequent, and the townsfolk are terrorised and even abducted by the aliens, Jake seems to be the only one able to fight back. With the help of Ella, Jake sets of on a journey to regain his memories and rally everyone – from the Apache Indians to the outlaws – to form an army to protect Absolution and its people. Who will survive this epic showdown for survival?