Movie Review: It's a Kind of a Funny Story
16-year-old Craig (Keir Gilchrist) is depressed.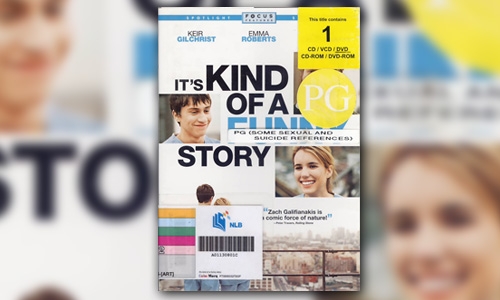 Directors: Anna Boden and Ryan Fleck
Cast: Keir Gilchrist, Zach Galifianakis, Emma Roberts and Viola Davis.
Year of Release (Film): 2010
Running Time: 101 min
Call No.: English 791.4372 ITS- [ART]

With the combined pressure of having to apply to a prestigious summer school to make his father proud, upset that his high school crush is dating his seemingly perfect best friend, and crippled by his embarrassing stress-induced vomiting, he is scared and lonely. When he finally seriously contemplates jumping off the Brooklyn Bridge, Craig knows that he needs to seek professional help. This thus marks the beginning of his one-week stay at 3 North, the hospital's psychiatric ward. Initially, he regrets his decision to allow himself to be checked into a mental facility, and tries to talk his way out. Fortunately for him, he decides to stay, and he soon meets and befriends some of his fellow patients - Bobby (Zach Galifianakis), an adult patient who takes Craig under his wing, and Noelle (Emma Roberts), a teenager who quickly catches Craig's interest. With the help of his newfound friends, Craig eventually learns how to deal with the pressures in his life that had led him to contemplate suicide. This touching film will entertain and inspire the audience with its witty dialogue and relatable characters.