Movie Review: War Horse
This is a war film unlike any other, as it focuses on the relationship between a teenage boy and his horse.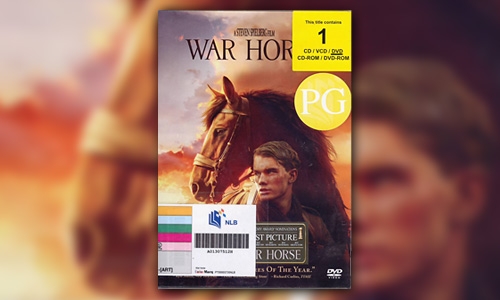 Director: Steven Spielberg
Cast: Jeremy Irvine, Emily Watson, Peter Mullan and David Thewlis.
Year of Release (Film): 2011
Running Time: 146 min
Call No.: English 791.4372 WAR- [ART]

In 1912, farmer Ted Narracott (Peter Mullan) purchases a beautiful thoroughbred colt at an auction, instead of a more sensible horse for farm work like ploughing.. Having over-spent on the colt, Ted finds himself in financial difficulties; his farm is in danger of being repossessed, as he lacks money to pay his rent. In the meantime, Ted's son, Albert (Jeremy Irvine), spends a great deal of time with the colt, whom he has named Joey and has grown very fond of. Eventually, in order to keep his farm, Ted secretly sells Joey to a cavalry officer bound for the war. Joey is then trained for military operations to fight in World War I, and is shipped off to France. As the war is fought, the horse changes hands a couple of times until he is eventually returned behind British lines. Once there, Joey is reunited with Albert, who has finally managed to enlist in 1918. Just when things seem to be looking up, Joey is auctioned off and it seems that the two friends are separated once again, this time for good. Will Albert finally be reunited with his beloved horse? This gem of a story had six Academy Award Nominations, including that for Best Picture, and the audience will be treated to an emotional, heartfelt, and imaginative tale.