Offer your memories of treasured places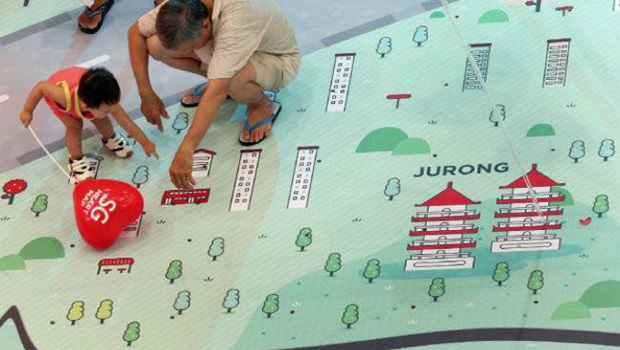 Mention Clifford Pier and what come to mind are also the skyscrapers of Raffles Place and the hustle and bustle of the area.
But for Ms Caroline Lauchengco, 54, the place will always hold precious memories of her wedding day.
Ms Lauchengco and her husband chose to hold their wedding in 1986 aboard the ship Singapore Princess.
"The most memorable bit was when we got out of the ship and they showered us with confetti," said the call centre agent, who is a Singaporean.
Her story about Clifford Pier is one of the first stories that will go into the SG Heart Map.
This SG50 initiative will bring together Singaporeans' stories about places which define Singapore as their home.
Local artists will use the contributed stories to co-create works of art such as sketches, poetry, photographs and films with the community.
The works of art will be showcased at the final event in November next year, along with a giant composite SG Heart Map.
The initiative was launched by Minister for National Development Khaw Boon Wan at the HDB Hub Mall yesterday.
Mr Khaw said it is an apt time to trace Singapore's development over the years, as the nation turns 50.
"It will allow us to pause, to look back at our individual as well as collective memories, and also to look forward to what we hope Singapore will be in the future."
He said that for him, Old Admiralty House in Sembawang holds a special place in his heart because he used to take his daughters there in the 1980s.
Another early contributor to the SG Heart Map is Professor Tommy Koh, ambassador-at-large at the Ministry of Foreign Affairs, who submitted his story about the National University of Singapore's Bukit Timah campus where he studied law and where he began his career.
Prof Koh said the Upper Quadrangle, especially, holds many fond memories for him. "This was where many great debates about the future of Singapore took place," he said.
Singaporeans can submit their stories about places in Singapore through the SG Heart Map Web portal, at www.heartmap.sg, or at the HDB Hub Mall exhibition.
The exhibition closes tomorrow.
SG Heart Map vans will also travel to various locations across Singapore such as the Woodlands Civic Centre, Tampines Central and Clementi Central to collect contributions.
More than 70 contribution booths will also be set up islandwide at MRT stations, shopping centres and community centres.
More than 500 young people from 17 educational institutions and schools will also be involved as "SG Heart Map Champions" to engage the community to contribute their endearing places and stories.
The deadline for submissions is the end of March next year.
Singaporeans will be able to track the development of the SG Heart Map on its official website, Facebook page and Twitter page.
Source: The Straits Times © Singapore Press Holdings Limited. Reproduced with permission.