Overthrow the tyranny of low expectations
Singapore's first female engineering dean, Professor Janie Fouke, tells Susan Long how she intends to continue being a role model to women contemplating a career in engineering.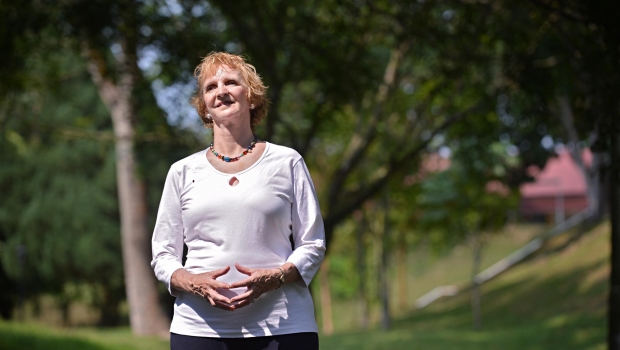 Singapore's first female engineering dean, Professor Janie Fouke, may have stepped down for "personal reasons" but the unstoppable trailblazer who became a mother of three at 20, then buried a son and battled cancer tells Susan Long how she intends to continue being a role model to women contemplating a career in engineering.
Two years ago, after an exhaustive search for a new engineering dean involving the consideration of more than 100 candidates, Nanyang Technological University (NTU) decided the best man for the job was a woman.
Professor Janie Fouke made history when she became the first woman to head NTU's engineering school, one of the world's largest by enrolment with more than 14,000 students.
The 62-year-old is no stranger to trailblazing. When she opted to study engineering back in the 1970s, it was considered a "man's job". Her parents objected, with her mother declaring: "Girls who go to engineering school wear blue jeans and have a slide rule on their belts."
At engineering graduate school, she was only one of two women in a sea of 100 men.
When she became the Dean of Engineering at Michigan State University in 1999, she was one of only five female deans in around 100 major engineering programmes in the United States.
She has spent much of her life battling stereotypes, the "tyranny of low expectations" and the entrenched old boys' network. She makes it her mission to help similarly inclined young women enter the engineering profession, advance in their careers and grow their own opportunities, like she did.
In July, she stepped down as NTU's engineering dean "for personal reasons". She declined to elaborate but it is understood she was brought in to enact change but felt unable to do so, due to internal constraints.
She remains a full professor with NTU. She has also been tasked to help strengthen links among the Global Alliance of Technological Universities, an NTU-initiated network of the world's top nine technological universities. This alliance aims to change the world through collaboration in science and engineering.
She has started by looking at Massive Open Online Courses and exploring new ways to bring such free online education to marginalised groups such as women or those who do not live anywhere near a university.
Girl power
Meanwhile, the engineering firebrand with a rapier wit, a ferocious work ethic and an almost dissonantly languid Southern drawl continues to press on with her mission. Today, she will give a speech at the inaugural World Engineers Summit here on her pet topic: educational opportunities for women.
Since becoming dean here, she has run regular education days for girls aged 14 to 15. She invites along illustrious engineering school alumnae to give talks and holds workshops where the girls can build things, to give them a glimpse of what a "cool life" an engineering degree leads to.
She is convinced the key to raising the quality of students of engineering, which has lost its lustre compared to more lucrative professions, is to attract more women. Anecdotally, she observes that at most engineering faculty commencement ceremonies in Singapore and the US, typically two-thirds of the top dozen graduates appearing on stage to get prizes are female. This is despite the fact that women typically make up only 30 per cent of each cohort.

As for why that is the case, she postulates it could be for "self-selecting" reasons. Women who go against the grain to choose engineering may already be high performers in maths and science, with a "propensity to do things with their hands and solve problems", she says, though no cohort analysis data has been collated to confirm this.
"Also, when people expect less of you, you work harder. So if you come in and people go, 'Yeah, well, she's a girl', you go, 'I can do this'. You accomplish more because you're swimming against the tide," she adds.
What she is sure about is that these female top scorers in engineering are definitely not being "cut any slack". In fact, they were probably dissuaded from the get-go by deterrent societal messages and perceptions that engineering is "dirty, dangerous, boring", requires working long hard hours – often through the night – and that "poor little girls shouldn't have to do that".
But of late, she notes that some engineering sub-disciplines, such as biomedical and environmental engineering, are attracting more women. "These are perceived to be caring and nourishing," she notes, adding that schools which offer such programmes typically see a spike in female enrolment.
At work, she agrees with Facebook chief operating officer Sheryl Sandberg that women need to "lean in more" to secure better prospects for themselves.
"You have to ask for that raise or more responsibility," she says, leaning in. "You have to self-identify, 'I can do that. I would like to do that.' You have to be articulate and clear about your willingness to take on new and different responsibilities."
She reflects: "When I was growing up, if you asked for something, that was not perceived well at all. If you were asked to do something, then that was OK. But if you sit and wait, it may never happen."
But she cautions: "Taking that ownership may not be welcomed in every setting."
Country song
All her convictions are as heartfelt and hard-lived as her life, which evokes many a country song. The oldest of three kids grew up on a tobacco and cotton farm south-east of Raleigh, North Carolina. From six, she helped feed livestock and became adept at using drills, sawing and soldering. By 10, she had helped her farmer dad build a laboratory, where she dissected frogs.
By 11, she had completed high school a year early, acing maths and science. Due to logistical difficulties getting to the nearest community college, an hour away by car, she "wasted" a year helping teachers photocopy exam papers.
She was the first person in her family to finish college, completing a liberal arts degree at St Andrews Presbyterian College.
At 20, she said "I do", and moved out of her undergraduate dormitory into her husband's house. He was 38, a political science professor, and divorced with three kids aged seven, nine and 11.
She spent the next couple of years juggling university, being a wife and raising the kids. She never found the time to have her own.
That was followed by three years teaching science at public school to help pay the bills.
When the children were older, she returned to school, getting her PhD in biomedical mathematics and engineering from the University of North Carolina. One of the first things she designed and built in the early 1980s was a video game to occupy the kids while she did her homework.
On weekends, she cooked all day and froze the food. On weekdays, she worked on medical instrumentation design. She developed devices that changed clinical practice and enhanced understanding of airway diseases such as asthma and the damage to the lungs caused by air pollution.
Her work on the characteristics of airflow patterns in ventilators also helped premature babies survive until their lungs were mature enough for them to breathe on their own.
At 27, midway through her PhD, tragedy struck. Their eldest boy, who was 18 and had just graduated from high school, died when some equipment fell on him while he was working in a farm supplies store.
"Everybody's pain was so severe at the same time, it was really hard to recover from," she remembers, choked up. Her marriage never recovered from the "huge trauma" and ended several years later.
Upon graduation in 1981, she began her academic career teaching at Case Western Reserve University in Cleveland. Fourteen years later, she joined the largest American science-funding government agency, the National Science Foundation, in Washington DC, as founding director of the bioengineering and environmental systems division, where she planned science and engineering policy, from 1995 to 1999.
She was then appointed dean of engineering at Michigan State University, an offer that Professor Low Teck Seng, 58, chief executive officer of the National Research Foundation, recalls her mulling over in earnest.

"What struck me was her clarity as regards what she could achieve there. She undertook the challenge and under her leadership attracted high-calibre academics to her college and built up its research capabilities," he recalls.
Six years later, she went on to become provost of the University of Florida, where funding was so tight she had to lay off tenured faculty members. She assumed her last-held appointment as senior adviser to the university's President for International Affairs in 2008, until NTU persuaded her to come to Singapore in 2011. Prior to her arrival, she had been here only several times since the 1990s as a visiting professor to National University of Singapore.
Building people
Beyond building things, she has also carved out a reputation for skilfully building people – hiring, mentoring and helping them advance in their careers.
Her ex-colleague, Professor Priscilla Nelson, 63, from the New Jersey Institute of Technology, notes: "She is always focused on excellence and in fostering innovation... She does not suffer fools easily – she requires honesty and the best you can deliver. She brings her best and expects reciprocation."
Her dinner parties, where she cooks Southern food for eight to 250 guests, are legendary. She tries to celebrate everyone's promotions, inviting them to her apartment on campus with their partners.
"Not only is the celebration of accomplishment important, but also when you do easy things together and you build trust, then that gives you a framework for doing the difficult things together," says the Presbyterian.
Today, she is a grandmother of four and great-grandmother of one. "My granddaughter is the fifth generation of women in my family to be told, 'You are too young to be raising children', including me. I was too young to be raising children. We're all bull-
headed," she says. Her second son John is a public school teacher in Texas and her daughter Kelen owns a direct marketing business in Florida.
What changed her focus was a breast cancer diagnosis. At 36, she underwent a few operations and chemotherapy for 11 months. That, coupled with the suddenness of her son's death, sharpened her decision to live well, fully and urgently. She is known for her "great impatience" and frequently laments that things move too slowly.
If there is anything left on her bucket list she wants to tick off, it's to do something for the rural folk out there. "If I can do anything to increase access to education for people who have historically had limited access, I will be proud of my efforts," she says, of her next quest.
Janie Fouke on...
What stymies women's careers
"The tyranny of low expectations. I frequently encounter situations where not as much is expected of women. You really have to have something different inside yourself to be able to perform at a higher level than people expect you to perform. Another problem is a bonding among men that not easily includes women. If you look at Fortune 500 companies, the percentage of women CEOs is about 4 per cent and women holding board seats about 16 per cent. The networks between men who sit on this and that board are very strong, they have known one another for many years. But there's no natural pathway for the inclusion of people who have historically not been in that club."
How engineering can regain its lost lustre
"It's about telling the story. We may have missed opportunities to package the message in a way that creates relevance and understanding of how engineering serves humanity. Take chemical engineering for example. We think of chemical engineering as petroleum and plastics but a big part of it is protecting the environment for the next generation and maybe that story would be more appealing."
Women and work success
"One of the things that are most important to the success of a woman is the person she marries. If you're married to a teammate who helps around the house, your ability to take on more responsibility and stay late at work escalates tremendously. If you have the dominant share of household responsibilities, be it calling the plumber or staying home with a sick kid, your opportunities to be more visible in the workplace diminish. That makes a huge difference. If you're doing it by yourself, that limits your professional choices. If you're sharing it, it opens up more possibilities for you."