PA event creates art in the heartland
HDB blocks turn into art galleries for 50,000 residents creating works for PAssion Arts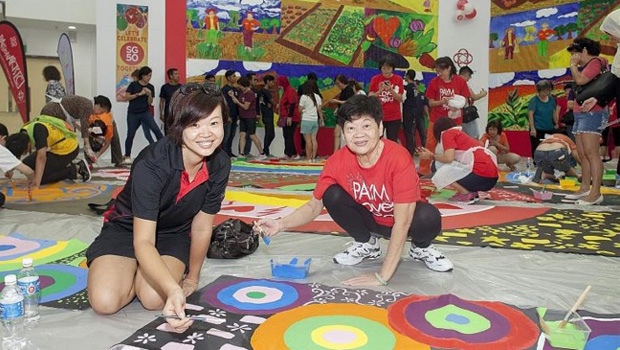 Giant flowers, a fruit market and rings representing the hopes of Singapore residents.
These are among 105 designs for Housing Board block facades being created by thousands of Singaporeans for the fourth annual PAssion Arts, which begins on Sunday.
The canvasses will be attached to the side of HDB blocks across the island, as well as at two condominiums, for the event which is organised by the People's Association (PA) and runs until Aug 30.
Some 50,000 residents are creating the artworks and more than 250,000 people are expected to take part in the festival as a whole.
Other art pieces - conceptualised by grassroots leaders and artists - will represent local food, people and architecture.
Housewife Tan Wee Ling, 46, has been helping to paint a "circle of life" design in Jurong with the help of her mother and two children aged 16 and 21 - giving the family some valuable bonding time.
"It's fun and at least we can all do something together on the weekends," she said.
"This is the first time we are all doing a community activity like that together."
Mr Muhammad Safiudin Rasol, 21, painted with a group of friends from his Malay dance group called The ChubbZ. He said: "I want to interact with the neighbours. I enjoy playing and painting with the kids, and it's a good way to get to know other residents."
Schools, voluntary welfare organisations and government agencies are also taking part in this year's festival which, for the first time, will also extend into theatre in an "Open Homes" project.
Households will open their doors to stage 25 mini-plays in which the home owners will narrate a personal story. The project will also feature four plays that will tour community centres and condominium function rooms.
Other art forms will include floating paintings of Singapore landscapes that will be displayed in Khatib and suspended knitted thoran, a traditional Indian art form. These are hung in the doorways to invite prosperity and wealth and are being made by Bedok residents of all races.
Mr Ang Hak Seng, chief executive director of the People's Association, said: "That was our intention - to bring people together."
Source: The Straits Times © Singapore Press Holdings Limited. Reproduced with permission.