Paddle power
Dragon boating is making waves as people from cancer survivors to senior citizens pick it up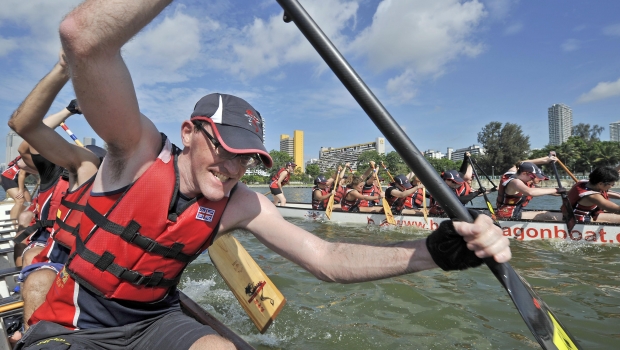 Dragon boating is no longer a sport just for the super fit.
These days, it has something to offer almost everyone – from people with cancer and the hearing impaired to troubled youth and active senior citizens.
The sport has seen a spurt in interest in recent years.
PUB, Singapore's national water agency, opened up designated areas of reservoirs to dragon boating and other water sports activities in 2005. There has also been an increase in the number of teams affliated with the Singapore Dragon Boat Association, from just 20 in 1987 to 114 teams currently.
There are also more participants in major events including the DBS Marina Regatta which is taking place this and next weekend. Last year, there were 1,800 participants and this year, the number has gone up to 2,450.
And it is not only people in government organisations, schools and companies who are picking up the paddle but also the community at large.
These groups usually have to fund themselves. Money is often needed to engage a coach, pay for the rental of boats and other equipment, as well as for entering competitions.
Boats and other equipment can be rented from the Singapore Dragon Boat Association at the Kallang Water Sports Centre as well as from the People's Association Water-Venture at designated reservoirs.
Mr Raizal Abdol Jalil, 40, secretary-general of the Singapore Dragon Boat Association, feels that the popularity of the sport lies in its heavy emphasis on teamwork.
Unlike some other team sports, where certain star players may influence the outcome of a game, there are no star rowers in dragon boating.
He said: "For the boat to move, and to move fast, everyone needs to work together. In fact, there's a saying in dragon boating that you are only as strong as your weakest paddler."
Ayer Rajah Dragons
The average age of members of the Ayer Rajah Dragons is about 40 but their passion for the paddle is no less than those younger.
In fact, they thrashed younger teams to emerge eighth at the People's Asscociation's Paddle Championship Men Premier Race last year – no small feat as there were more than 40 teams.
Mr Julian Ho Ah Chye, 68, the oldest member in the team, said: "I have always kept an active lifestyle, so it is not that difficult for me to keep up with younger team members. In fact, sometimes I feel that I am stronger than them."
Mr Ho, who works as an engineer on a contract basis, has been dragon boating for the last 10 years. He has also been practising ninja-do, which combines martial art techniques from around the world since he was 48.
Ayer Rajah Dragons was formed by the Ayer Rajah Community Sports Club in 2011 for residents of Ayer Rajah. It has 18 members, all men, only two of whom are under 30. Most are in their 40s and 50s.
The older members are often the more experienced paddlers, said team manager Charlie Chew, 59, a former construction site supervisor who is now retired. He has been paddling for the last 10 years.
One of the younger team members, Dr Sun Guang Wen, 35, a polytechnic science and biology lecturer, finds it enjoyable to paddle with older folk.
He said: "They are certainly more experienced than me. I was able to learn quickly under their guidance."
In fact, he took part in his first People's Association's Paddle race last September after training for only four to six weekly sessions.
Due to budget constraints, the team takes part in only one race – the People's Association's Paddle Championship – every year. Members train once a week at Kallang River for three months before the race.
The team gets $1,500 from Ayer Rajah Community Club to pay for the costs of the coach as well as rental of boats and other equipment. Membership is free.
Besides dragon boating, some members also meet once a week to exercise, such as going brisk walking and jogging.
Some, including Mr Chew, also practise qigong regularly at Teban Gardens and Toa Payoh Gardens during weekends. Said Mr Chew: "All these help to improve team bonding among our members."
Reach Dragon
Two years ago, Terence Lim and Chng Sheng were troubled youths who hated to study but did not know what else to do with their time.
Lim would hang out at shopping centres with his classmates after school and get into fights with anyone who offended him. Chng was involved in a street gang and eventually arrested by the police.
Both were referred to Reach Community Services Society two years ago and invited to join its dragon boating team for young people.
The sport turned their lives around. Lim, now 17 and a Secondary 5 student at a neighbourhood school in Bishan, stopped hanging out at shopping centres and started doing better in his studies.
Chng, 17, was among the top scorers in his school for the N levels last year and is now studying his dream course in aerospace avionics at the Institute of Technical Education.
The duo said dragon boating keeps them busy. They are now training hard for their first competition at the DBS Marina Regatta this weekend. For the past few weeks, they have been going down to Kallang River to train twice a week, and to the gym three to four times a week.
Mr Joe Chan, 33, a senior social worker at Reach, said dragon boating is a boon for many youths such as Terence and Chng. He said: "They learn how to focus and discipline themselves because they know their actions can affect others. And they learn how to persevere even in the face of fatigue."
These qualities often spill over into their studies and other areas in life, he added.
He set up the team in 2006 with only six members. It has since grown to about 50 members of both genders aged 14 to their early 20s. Members pay a nominal fee every year.
A third of them are youth volunteers who act as role models for the other youths.
Although it started out more as a recreational team, Mr Chan began to sign them up for more competitions as "these appeal to the competitive streak in adolescents and make them even more focused and disciplined".
Running the team costs about $9,000 a year, mostly for boat rentals as well as coach and competition fees. It has taken part in at least five local races every year in the last few years.
This year, for the first time, seven members, including Lim and Chng, will be taking part in their first overseas competition – the World Dragon Boat Racing Championships 2013 in Hungary in July. They will be part of the under-18 team fielded by the Singapore National Youth Team.
The boys are thrilled about the event but their high spirits are dampened somewhat by the fact that a few of them may not be able to make it because they cannot afford the $2,500 each needs for the trip. Hence, Lim is hoping that his team will win a prize in the regatta.
He said: "The money can then help these members pay for their expenses for the trip."
British Dragon
Before he joined the British Dragon two years ago, Mr Tan Zhe Ren's social circle was confined to Singaporean Chinese friends. After joining the team, however, he now knows people of more than 10 nationalities.
"It's like a microcosm of the world. I got a taste of what it means to be a global citizen, " said Mr Tan, 21, who just completed his national service and is waiting to enter university in September. His new pals include teachers, accountants, bankers and financial controllers from Asian and European countries.
The British Dragon was founded in 2000, largely by members of the British Chamber of Commerce. One of the many dragon boating teams for the expatriate community here, it has grown over the years to become one of the most cosmopolitan too.
It has drawn about 50 other men and women, aged 21 to 60, from about 16 nationalities.
Team captain Paul Robinson, 37, a Briton, said that the team is especially welcoming of people of other nationalities. He said: "We feel that having a multi-national team reflects the multi-cultural nature of Singapore."
While 60 per cent of members are British, there are also Singaporeans, Malaysians, Indonesians, Indians, Filipinos, Australians and New Zealanders, as well as people from European countries such as Holland, France and Germany. Members pay about $5 to $10 each training session.
Most speak good English. Even if they do not, it is always possible to find someone in the team who speaks their language and can act as a translator, said Mr Robinson.
Members of the close-knit team meet frequently for movies, dinners and plays. They celebrate local festivals and public holidays together, as well as important days on the British calendar such as St George's Day on April 23 and St Andrew's Day on Nov 30. They look out for one another, by passing on contacts for job and housing opportunities, for instance.
But it is not all play and no work. As one of the more competitive community teams around, it practises twice a week at Kallang River and once a week at a pool at Farrer Park Swimming Complex.
The team also takes part in about 10 local races and two overseas races a year. It will field a 12-crew and 22-crew team at the DBS Marina Regatta tomorrow.
Although the expatriate community is especially fluid, with people tending to uproot after a couple of years, Mr Tan is confident that the friendships formed in the dragon boating team are for life.
Said the bachelor: "I know that we will still keep in touch, whether it's via e-mail or Facebook."
Pink Spartans
Cancer survivors Sudha Muthukrishnan, 57, and Ramapathy Doraswamy, 65, joined the dragon boat team Pink Spartans two years ago so that they could keep fit.
What the married couple did not bargain for was gaining a new "extended family".
Ms Muthukrishnan, who was diagnosed with breast cancer in 2010, recalled: "The first time we met everyone was at the Chinese New Year 'lo hei' function. Within five minutes, we were part of the family. The members welcomed us and never for a minute made us feel lost or uncomfortable."
She has since recovered and is now back at work as an operations officer in an investment corporation. Her husband, the only male cancer survivor in the team, had been diagnosed with tongue cancer in 2005. His cancer has been in remission since. He is retired.
The Pink Spartans was set up by a group of breast cancer survivors in 2010. There is also another dragon boating team called Paddlers In The Pink for breast cancer survivors, founded in 2003 by the Breast Cancer Foundation.
Pink Spartans soon decided to open up its group to other cancer survivors as "we feel that such a wonderful programme should not be exclusive to breast cancer survivors", said team manager Angelina Ong, 58. She is the managing director of Sava, a sports management company which is one of the main supporters of the team.
The number of members has since doubled from about 20 to 40. Their ages range from 30 to 70-something. Members pay $10 a month.
While made up of mostly breast cancer survivors, the team also includes survivors of cervical cancer and ovarian cancer. Three members are husbands of the survivors.
Besides going for dragon boat training at Kallang River every Saturday morning, the group also does fitness exercises such as pole dancing at Bobbi's Pole Studio every Tuesday. On other days, they brisk walk.
They take part in local races at least twice a year and international races once a year.
But it is not just about being physically fit.
Members provide a support network for one another, said team captain and breast cancer survivor Priscilla Kok, 62.
When one 38-year-old member was diagnosed with stomach cancer recently, the team visited her at home after her chemotherapy, and bought her food and drinks. When she got better, they took her out to Kallang River on the dragon boat for some fresh air.
When another member in her 50s was living out her last days last year, members took turns to visit her in the hospital and, later at home, bringing her food and cooking meals for her.
Being in a dragon boating team has been such a good experience for Pink Spartans that they want to help other cancer-support organisations set up similar teams, said Ms Ong.
It has helped a cancer organisation in Sabah set up a dragon boat team for its cancer survivors, and will be doing the same for a cancer organisation in Japan and the National Cancer Centre Singapore.
Said Ms Ong: "We are constantly looking for sponsors to help us grow this programme so that we can achieve our mission of helping more cancer organisations set up similar dragon boat programmes."
Silent Dragon
It is not by chance that members of the Silent Dragon often appear more animated and expressive than dragon boaters from other teams.
Three out of 20 members in Silent Dragon are deaf and one is deaf in one ear (or hard of hearing).
Ms Kim Lau, 43, the team's coach, said: "We have to communicate with our deaf members by using gestures or sign language."
She coaches using verbal speech and sign language simultaneously.
Silent Dragon, which was set up by a group of deaf and hearing members in 2006, is one of two dragon boat teams here with deaf members. The other is Deaf Dragons, which was set up last year.
Although dragon boating is a vocal sport which relies heavily on verbal commands and drum beats to drive momentum, the team has found ways to overcome these challenges.
Hearing members are paired with deaf members during training and races so that they can pick up sign language more quickly.
The team uses non-verbal cues instead of verbal commands.
For instance, during training, Ms Lau would knock at the side of the boat with the paddle: One hard knock means "get ready", two knocks means "paddles up", and one more knock means "go".
In races, using the knocks will hinder the starts, hence deaf members are trained to look at the paddler in front to know when to get ready, paddles up and go.
As deaf members cannot hear the commands such as "power up" from the drummer, they are reminded to row with feeling.
If they feel that everyone is putting in more power, they should follow suit, said Ms Lau.
The team members, who are in their 20s to 50s, take part in about five local races a year. It will be fielding a 12-crew team for the DBS Regatta invitational race on May 24. It is in the midst of recruiting more new members so that it can field a 22-crew team in future. Membership is free. Although members are not required to turn up every week for training, about 13 to 18 would show up each time, said Ms Lau.
Besides dragon boating, members also meet regularly for bonding sessions. They take part in endurance races such as biathlons and triathlons together, meet once a year for team building games and twice a year for "makan" sessions.
The team spends about $3,000 a year, mostly on boat rental fees. It has been largely funded by the Bukit Gombak Community Sports Club since 2011.
Mr Nicholas Eaw, 28, who is pursuing a diploma in animation, decided to join the team about six months ago to challenge himself and to show that he can paddle just like any other hearing paddler. He is deaf from birth.
It has been more smooth-sailing than he thought.
He said in an e-mail interview: "It helps when the coach knows sign language. My team mates have also been very helpful in guiding me on my rowing skills."
They communicate with him using gestures and simple sign language.
He said: "Sometimes, they will ask me to teach them some simple signs too."