Passionfruit lime cheesecake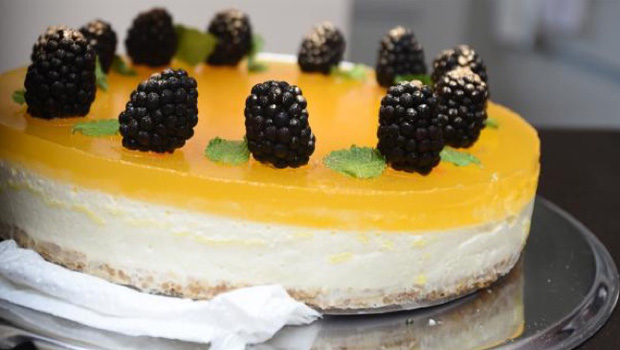 A no-frills blueberry sponge cake on her sixth birthday is one that corporate trainer Jenny Lie will always remember.
The 39-year-old has fond memories of it because it was the only birthday cake her mother baked for her. She recalls: "My mother did not bake a lot of cakes, so that gesture left a huge impact on me and that memory still lingers in my mind."
To make sure her children Cheryl, 11, and Caleb, nine, also feel special, she has been making birthday cakes for them for the past three years.
However, her cakes are worlds apart from the humble sponge cake her mother baked. Instead, the eye-popping creations are covered in colourful fondant icing and adorned with intricate fondant sculptures of cartoon characters and race cars.
Preparation work starts one week before the big day, with much time spent on crafting the figurines.
One of the more challenging ones has been a 10cm-tall sculpture of R2D2, the robot from the Star Wars movies. She took six hours to make it, cutting fondant pieces into minuscule buttons and strips and brushing them with edible paint before plastering them on the body.
Ms Lie says: "Baking is an act of love for them and is my way of creating special memories for my children so that they can remember each year with a cake."
It was her children who got her baking. When Cheryl was eight, she loved watching baking shows such as Cake Boss and got her mother to watch them with her. Ms Lie says: "Watching these shows planted thoughts of baking in me and birthday cakes came to mind as the store-bought ones are too sweet."
Her children are her "idea generators" when it comes to baking.
The recipe for her passionfruit lime cheesecake was inspired by them. Her son loves lemons and she had some passionfruit on hand last month. So she decided to top the lime cheesecake with a passionfruit-lemon jelly.
"The sweetness and sourness of the passionfruit and lemon in the jelly layer cuts through the richness of the cheesecake," she says.
She says the tricky part is figuring out the time needed for the cream cheese base to set, before pouring the jelly solution on top of it. This prevents parts of the cheese layer from floating up into the clear jelly disc. The jelly solution should also be warm so that it adheres to the cream cheese base.
Baking has become a way for Ms Lie to bond with her children as they help her cut fruit and squeeze juice. It is evident that the kids are involved in her baking sessions, given the numerous times they chime in during the interview to offer details about the cakes' flavours and designs and the occasional slip-ups.
Besides cakes, she also conjures up fruit tarts, scones with lemon curd and kaya, and pavlovas. She makes these treats for tea sessions she hosts for friends in her three-storey terrace house in West Coast Lane.
Ms Lie, who is married to Raymond Teo, 41, a senior service quality manager, says: "Tea time is about having a good catch-up. There's much to take away when there's great hospitality thrown in with my bakes."
Ingredients
10 digestive biscuits
70g unsalted butter, melted
250g cream cheese
250ml whipping cream
100g icing sugar
50ml lime juice from large green limes
3 tsp gelatin powder dissolved into 30ml of hot water
150ml passionfruit juice, strained and seeds discarded
50ml lemon juice
170g caster sugar
3 Tbs gelatin powder dissolved into 2.5 litres of hot water
Blackberries, edible gold dust and mint leaves for garnish
Method
For the cake:
1. Place the digestive biscuits in a re-sealable plastic bag and crush with a rolling pin till the biscuits look like fine crumbs.
2. In a mixing bowl, mix the crushed digestives and melted butter thoroughly. Pour the mixture into a round 22cm springform pan. Flatten the mixture evenly across the tin with the underside of a spoon.
3. Using an electric mixer fitted with the paddle attachment, mix cream cheese and pour in whipping cream gradually while the mixer is on medium speed. Whisk for three minutes till mixture becomes smooth.
4. Sift icing sugar into the bowl and fold it into the mixture.
5. Re-attach the bowl to electric mixer and whisk for a minute.
6. Pour lime juice and gelatin into mixture and mix it at medium speed for two to three minutes.
7. Pour mixture evenly on top of the layer of biscuit crumbs in the cake tin. Place in the refrigerator for at least two hours for the mixture to set.
For the jelly:
1. In a small pot set over low heat, add passionfruit and lemon juices and stir in sugar until it dissolves. Set mixture aside to cool for 15 minutes.
2. Stir gelatin into the mixture and pour it through a strainer onto the cheesecake base.
3. Refrigerate overnight. To remove the cake, dip a knife in hot water and run it around the circumference of the cake. Open the latch of the springform pan and transfer the cake to a serving platter.
4. Decorate with blackberries sprinkled with edible gold dust and mint leaves.
Serves 12
Source: The Straits Times © Singapore Press Holdings Limited. Reproduced with permission.