Senior citizens take on students in computer games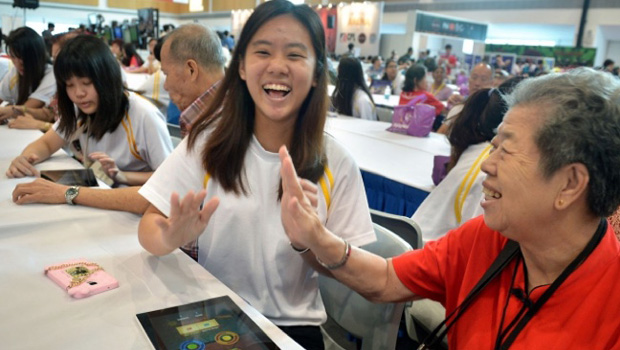 ITE student Celine Si, 19, playing Fruit Ninja with retiree Ng Geok Heok, 70, who was among 50 senior citizens invited to the Institute of Technical Education College Central yesterday.
Retiree Ng Geok Heok may be 69, but she plays a mean game of Fruit Ninja - swiping her fingers round an iPad screen to chop up apples and bananas like an expert gamer.
She was among 50 senior citizens from Thye Hua Kwan Senior Activity Centre invited to the Institute of Technical Education (ITE) College Central yesterday, where they took on ITE students at the mobile game.
Madam Ng said: "The game is fun and the students had taught us how to play it before. I am very happy to be here. There is no one to talk to at home."
The event, which aims to provide engagement between senior citizens and youth, took place at the third Campus Game (Games, Arts, Media and Edutainment) Fest, which was launched by Minister of State for National Development Desmond Lee.
The event was organised by the Singapore CyberSports & Online Gaming Association, ITE and 200 students from ITE College Central.
Madam Ng's and her peers' mastery of the game left lasting impressions on their younger opponents, including Celine Si, 19, who is pursuing a Higher Nitec in Banking.
She said. "It is impressive that some of them even scored better than me."
Dr Derek Yeo, director of ITE's School of Business and Services, said helping the elderly has consistently been part of the school's student development.
He added: "Young people will need to work together with the elderly more in the future as the workforce ages, so this also provides good experience."
The event will run till tomorrow, and features activities ranging from gaming tournaments to laser tag and archery tag.
Five locally developed SG50 games - Building the Lion; Kan-Cheong! Kopitiam Saga; My Singapore City; Rickshaw Rush; and Satay Club - were also officially launched at the event.
Inspired by Singapore's culture and heritage, these Media Development Authority-supported applications are now free for download on mobile devices.
Source: The Straits Times © Singapore Press Holdings Limited. Reproduced with permission.