Silver Housing Bonus For Her Greying Years
Until Budget Day on Feb 21, we catch up with Singaporeans on how their lives were changed by the last Budget and their hopes for the coming one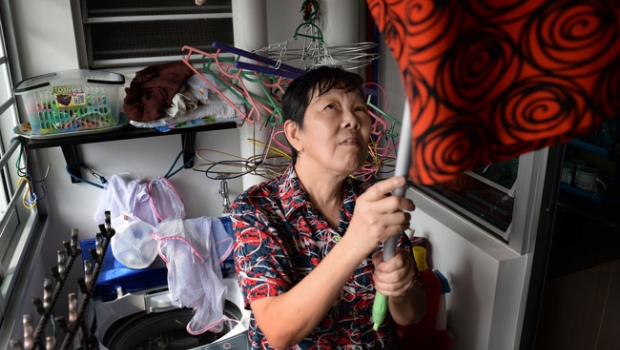 THE BUDGET AND ME
DOWNGRADING is sometimes a painful affair, but retired nurse Choy Mui Leng (left) reaped a $20,000 bonus when she switched from a four-room flat in Sengkang to a three-roomer in Punggol last May.
The cash windfall came from the Housing Board's enhanced Silver Housing Bonus scheme.
It provides additional help to lower-income elderly households who downsize from a larger flat and use the net sale proceeds to enhance their retirement income. "The cost of living here has become quite high, so we're contented that the Government has given us some money to help with this," said Madam Choy, 66.
The Government made the scheme more attractive last year by lowering the amount needed to top up an elderly person's Central Provident Fund retirement account. The average person need only put in $60,000, down from the possible maximum of $278,000 previously.
There is also an all-cash bonus of $20,000. Initially, $15,000 was to be given in cash and the rest channelled into a homeowner's CPF account, but HDB revised its policy following public feedback.
Madam Choy opted to use all her cash bonus to top up her and her husband's Medisave accounts. "This way, the money will be used for something we really need later and not something frivolous," she said.
Living in a smaller flat has not been a problem for her and her retiree husband, 78. "When you're old, you don't need so much space," she said, joking that it is "much easier to clean".
Madam Choy is not hoping for anything from next week's Budget for herself, but would like to see more resources allocated to the elderly.
She pays home visits to sick elderly twice a week in Kampong Bahru and says: "If we could somehow get more home care nurses for those living on their own, that would be great for the elderly in Singapore."
For the Budget Big Story, go to www.straitstimes.com/budget-201
Source: The Straits Times © Singapore Press Holdings Limited. Reproduced with permission.