Sink into lush nature in Kyushu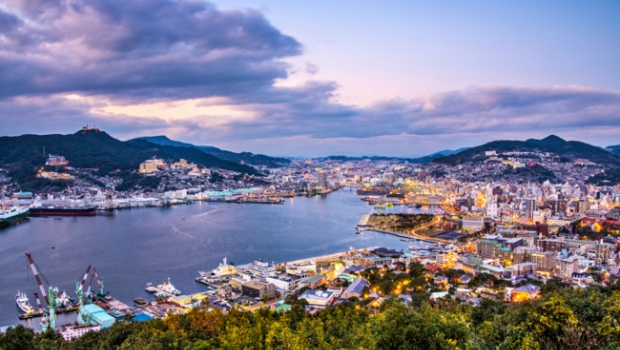 THE island of Kyushu – home to hot springs, volcanoes and natural scenery – is one of Japan's unsung beauties.
Located south-west of the main island of Honshu, Kyushu is the country's third-largest island. There are seven prefectures, each with its distinct character.
Up north, Fukuoka Prefecture is the largest and its city, better known as Hakata, has been ranked by London-based magazine Monocle as one of the top 12 most liveable cities in the world.
Fukuoka is also the perfect launchpad to the rest of Kyushu.
Simply hop aboard the new 800 series Shinkansen, a bullet train with design features that pay homage to Kyushu's traditional craftsmanship.
A nearly two-hour ride will take you to Kagoshima Prefecture, which offers one of the world's quirkiest travel experiences: sand bathing.
Sand-bath centres, or sunamushi onsen, abound in the hot-spring town of Ibusuki, where visitors can bury themselves up to the neck in sand that is heated by natural subterranean geysers.
The weight and heat of the sand is known to improve blood circulation, and doubles as a form of beauty treatment as well.
Another must-do in Kagoshima is a visit to the Yunohira Observation Spot, located 373m above sea level. The spot offers a panoramic view of the expansive lava fields surrounding the iconic Sakurajima, one of Japan's most active volcanoes.
Lovers of the great outdoors will also be awed by the scenic Yakushima Island, a natural World Heritage Site filled with cedar forests. A trek through the wilderness will take you to the Jomon Cedar tree, reputedly the oldest in the world at 7,200 years.
Over in north-eastern Kyushu, the mountainous Oita Prefecture is a haven for hot-spring seekers. Be spoilt for choice in Beppu, Japan's unofficial capital of hot springs, where options include mineral mud baths, sand baths and even outdoor baths with ocean views.
In Beppu, hell is not a bad place to be. Visitors are encourage to take the Jigoku Meguri (Hells of Beppu) route, which boasts eight spectacular and unique hot springs, including the boiling cobalt-blue Umi Jigoku (Sea Hell) and blood-red Chinoike Jigoku (Blood Pond Hell).
The idyllic hot-spring town of Yufuin, located nearby, is equally enticing with its boutique bathhouses. The beautiful twin-peaked Mount Yufu volcano towers over the town.
Another draw of Kyushu is its proximity to Okinawa, which is less than two hours away by air.
Set out on a whale-watching boat tour for an up-close experience with the gentle giants, which swim to the warm waters around the Kerama Islands near Okinawa to breed from January to March.
There are also world-class dive sites on the tropical island, filled with a colourful panoply of tropical fish and coral reefs. Coupled with Okinawa's pristine beaches and emerald waters, they present a visual feast to visitors.
Visit Japan at Natas Travel 2014 at the Singapore Expo Hall 3 (Booth 3H74) from Feb 28 to March 2. Visitors can look forward to on-stage performances and photo-taking opportunities with Hello Kitty. Proudly brought to you by the Japan National Tourism Organisation and Singapore Airlines
Source: The Straits Times © Singapore Press Holdings Limited. Reproduced with permission.