Take comfort in oden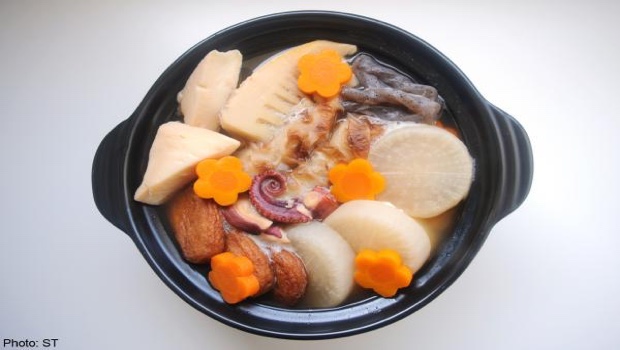 In theory, the endless feasting during Chinese New Year is wonderful.
This is the time of year to eat with wild abandon, all in the name of welcoming a new, hopefully more prosperous year.
My weaknesses are pineapple tarts, bak kwa, those little crisp rolls filled with haebee hiam, yusheng and mandarin oranges. Everything, except maybe the yusheng and mandarin oranges, derails my efforts to eat healthily.
Not to be a party pooper or anything, but I can eat only so much Chinese New Year food. The pencai filled with fish maw, sea cucumber and other rich ingredients; the stews of mushrooms and prosperity moss - they can all get overwhelming after a while.
So in the midst of all this craziness, I decide to give myself a break and make a pot of oden. This Japanese fishcake stew is endlessly comforting. It is cooked in dashi stock and is flavourful rather than rich.
I hate to say this, but more than once, after traipsing around Tokyo, I have ducked into Family Mart convenience stores and bought steaming bowls of oden to warm up in winter.
In Kyoto, I have had fantastic oden at Takocho and Oito. Men in white coats preside over steaming vats of oden, with all sorts of things bobbing around in the stock.
I particularly love tofu cakes studded with vegetables and ginkgo nuts, cabbage rolls and, of course, who can resist chunks of daikon soaked through with dashi?
Some oden restaurants are so serious that they do not throw out leftover stock. It is stored carefully at the end of business and they add to it, so every bowl has a taste of history.
The stew tastes better after it has had time for the flavours to meld, so I make it a day before I plan to eat it. And then the leftovers get stored and new things added to perk up the stew.
Of course, you can buy instant oden powder and whip it up in a jiffy.
However, making dashi from scratch takes hardly any time at all and the pure, aromatic stock is beautiful to work with. All it needs is some mirin and shiro shoyu or usukuchi. This is a light-coloured, but not low-sodium, Japanese soya sauce. It gives saltiness without the dark colour, but go ahead and use regular shoyu. You can also replace the shoyu with salt to taste.
Once you have the stock sorted out, there are endless possibilities for what you can put in it.
Daikon, konnyaku and carrot are musts for me so they are non-negotiable.
Because this is a fishcake stew after all, I also add satsuma age, a type of fried fishcake; chikuwa, a tube-like fishcake; and hanpen, another type of boiled fishcake.
For protein, I use cooked octopus, chunks of which need only heating up just before serving.
Many other things can go into oden. In fact, at Japanese supermarkets, you can buy styrofoam trays of oden ingredients that might include vegetable-studded fishballs, tofu puff parcels filled with mochi, and chikuwa.
If you want to D-I-Y as I have done, add lotus root, firm tofu, ginkgo nuts, your own pork-filled cabbage rolls and brighten the stew with bright green mizuna added right before serving.
Boiled eggs are another fine addition.
The overnight wait before eating pays off handsomely because the ingredients have absorbed all that flavourful dashi.
Serve the stew with eye-watering, sinus-clearingly hot Japanese mustard called karashi and, instantly, you have a warm belly, a clear nose and no Chinese New Year food coma. A couple of my friends are down with flu and I'll bet some of this oden will perk them right up.
It has done me a world of good, eating clean like that.
And now, for one last hurrah of tarts, bak kwa and yusheng before Chinese New Year is over.
Ingredients
For the dashi:
1 10cm by 20cm piece of kombu
21/2 litres water
40g bonito flakes
2 Tbs shiro shoyu or usukuchi, a light-coloured, not low-sodium, soya sauce; or use regular shoyu
2 Tbs mirin
For the oden:
1 radish, about 1kg
Cloudy rice water
1 small carrot
200g cooked bamboo shoot
1 250g block konnyaku
2 sticks chikuwa (above right), about 150g
6 satsuma age, about 200g
1 piece hanpen, about 150g
200g cooked octopus tentacles
Japanese mustard or karashi for serving
Method
1. Make the oden one day before you plan to serve it. Wipe the kombu with a damp paper towel and place it in a large pot with the water. Let sit while you prepare the rest of the ingredients.
2. Skin the radish, slice off the top and bottom and cut into 2.5cm to 3cm thick rounds. Using a vegetable peeler, bevel the top and bottom edges of the radish by peeling off a thin strip. This prevents the daikon from falling apart while simmering.
3. Save the water from washing rice for another meal and pour the cloudy white liquid into a medium pot. Place the bevelled chunks of daikon in it and bring to a boil over medium heat. Turn the heat down to low and let simmer 30 minutes. This takes away the strong smell of the daikon. Drain the cooked daikon in a colander, rinse under running water and set aside.
4. While the daikon is cooking, prepare the rest of the ingredients. Peel the carrot and cut into 1cm-thick rounds. Use a cookie cutter to cut shapes out of them if desired. Place in a colander. Slice the bamboo shoot into wedges, rinse under running water and place in the colander with the carrots.
5. Slice the konnyaku into 0.5cm-thick slices. Using a sharp knife, cut through the middle of each slice, leaving about 1cm at each end. Fold one end through the cut in the middle (above) and pull it down at the other side. Place in a colander, rinse under running water and set aside.
6. Cut the chikuwa in half, place it and the satsuma age in a colander and rinse under running water.
7. Pour boiling water over the konnyaku and fishcake to remove the fishy smell from the konnyaku and the oil from the satsuma age and chikuwa.
8. Cut the hanpen into eight triangles. Set aside on a plate.
9. Remove the kombu from the large pot. Place the pot over medium heat and let sit until small bubbles form around the circumference of the pot. Turn off the heat and scatter bonito flakes on the water. Let sit for 20 minutes. Strain the dashi into a pot large enough to contain the stock. Wash the large pot and return the dashi to it. Add the shiro shoyu, or regular shoyu, and mirin. Mix well, have a taste and add more shoyu if needed.
10. Add the daikon, carrot, konnyaku and bamboo shoots into the dashi. Bring to a boil, then turn down the heat to low and simmer for 1 hour. Add the chikuwa, satsuma age and hanpen and simmer another 30 minutes.
11. Let the stew cool and refrigerate overnight. I usually transfer the oden into a container with a tight- fitting lid.
12. About 30 minutes before serving, remove the oden from the refrigerator and arrange in a claypot. Heat the stew over medium-low heat until it comes to a boil. Give the octopus pieces a rinse and add to the pot. Let cook another 4 to 5 minutes. Turn off the heat. If you have leftover dashi that won't fit into the claypot, keep hot in a separate pot and top up the stew as you eat.
13. Serve with karashi.
Serves four to six
Source: The Straits Times © Singapore Press Holdings Limited. Reproduced with permission.