Tandoori tempeh with green chutney
Using tempeh, made with fermented soya beans, instead of cheese in paneer tandoori makes it a healthier dish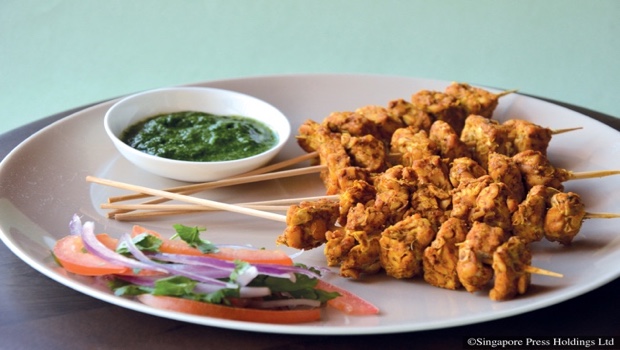 The more health-conscious may baulk at the thought of consuming the traditional Indian dish of paneer tandoori, or cottage cheese in a yogurt-based spice sauce.
While delicious, its high fat content can be hard to swallow.
In this recipe, the cheese cubes have been replaced with tempeh, an ingredient which originated from Indonesian cooking and is made by fermenting soya beans.
Tempeh is rich in protein, as well as B vitamins and minerals, such as magnesium, said Ms Mayura Mohta, a nutrition and fitness expert who devised the recipe.
More importantly, it is able to absorb the tandoori flavour well.
Ms Mohta, who founded Healthfriend in 2010, a social enterprise which promotes healthy eating, has also cut back on the yogurt marinade, which tends to be heavily used in tandoori dishes.
Instead, she used dry, coarsely ground spice powders. "The use of oil is also restricted; it is used only for greasing," she said.
RECIPE
Tandoori tempeh with green chutney (Serves four)
INGREDIENTS
3 pieces of tempeh
Virgin olive oil, for greasing
Green chutney (see recipe below)
Tikka paste
1/2 tsp garam masala
1 tsp cumin powder
1 tsp coriander powder
2 tsp chilli powder
1 tsp turmeric powder
1 tsp ginger garlic paste
1 tbs low-fat yogurt
1/8 tsp salt
Garnish
2 tbs fresh coriander leaves, finely chopped
4 lemon wedges
1 small red onion, peeled and thinly sliced
METHOD
Steam the tempeh for 10 minutes. Cool and cut into 1.5-inch cubes.
In a bowl, whisk all the ingredients of the tikka paste together. Add the tempeh and toss until the pieces are well-coated. Marinate the tempeh in the tikka mix for 30 minutes.
Preheat the oven to 200 deg C. Line a baking tray with aluminium foil and grease it with a few drops of virgin olive oil.
Form bite-sized pieces of the marinated tempeh. Push the tempeh pieces through greased skewers and arrange them on the baking tray. Bake for 25 minutes, until the tempeh is dry and slightly browned.
Garnish with coriander leaves, lemon wedges and sliced onions.
Green chutney
3 cups fresh coriander leaves
1 cup fresh mint leaves
1 or 2 small green chillies, chopped
1/4 tsp cumin seeds
1/4 tsp fennel seeds
2 cloves garlic, peeled
3 tbs lime juice, freshly squeezed
1/4 tsp salt
1 tbs honey
METHOD
Put all the ingredients into a food processor and grind until smooth.
Serve with the tempeh, according to your desired amount. Put the rest in an airtight container in the fridge for up to three days. It can also be frozen for up to one month.
NUTRITIONAL INFORMATION (Per serving; green chutney not included)
Energy: 60kcal
Sodium: 102.25mg
Total fat: 3g
Protein: 5.75g
Dietary fibre: 1g
TIPS
1. The tandoori tempeh can be refrigerated for two days in an airtight container.
2. You can replace the tempeh with firm tofu for this recipe.
Source: The Straits Times © Singapore Press Holdings Limited. Reproduced with permission.